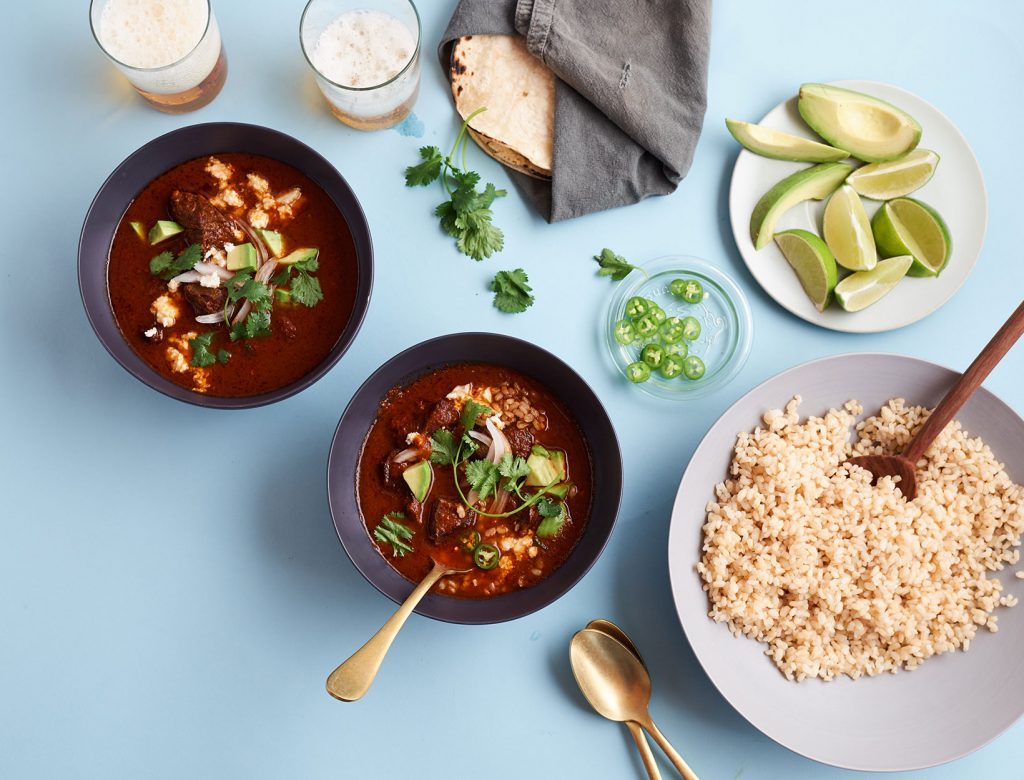 Pressure Cooker Chili Colorado
The combination of warm, spicy chilies, meltingly tender meat, and fresh, bright garnishes makes one of the most comforting and satisfying meals we can think of. And because it's braised in the pressure cooker, what would normally take upwards of three hours is done in under one.
1. Bring 3 cups of filtered water to a boil.
2. While the water heats up, place a large cast-iron or frying pan over medium heat. Add the dried chilies and toast for 1 to 2 minutes on each side—you want them to be fragrant but not burned. Move the toasted chilies to a medium bowl and pour over the boiling water. Cover with plastic wrap and set aside while you prepare the rest of the ingredients.
3. In the same cast-iron pan, heat 2 tablespoons of the olive oil and over medium-high heat. Add the diced onion and cook for 3 minutes, or until just starting to brown and become tender.
4. Add the garlic cloves, cumin seeds, and Mexican oregano and cook for 1 more minute.
5. Transfer the onion mixture to a powerful blender. Pour in the chilies and soaking liquid, and add the serrano, cilantro, and salt. Blend on high until smooth. (Be careful when blending hot liquids!)
6. Set the multicooker to the "brown" function (if your pressure cooker doesn't have a browning function, heat your cleaned-out large cast-iron pan instead). While it heats, season the beef pieces generously with salt (you'll need about 1 teaspoon for all of it), and dust evenly with 1 tablespoon of flour.
5. Pour the remaining tablespoon of oil into the multicooker (or pan), then sear the meat for about 3 minutes per side, or until nicely browned. If all the pieces don't fit in a single layer, do this in batches, removing the browned meat to a plate to rest as you go. Turn off the browning function.
6. Place all of the meat back in the pressure cooker, pour in the chili sauce, and throw in the bay leaf. Secure the lid and set the steam valve to "pressure." Turn on the "pressure" function and set the timer to 40 minutes. When it's done its thing, carefully open the valve from "pressure" to "steam" (watch out for hot steam), and unlock the top.
7. Serve over rice or with corn or flour tortillas, sliced avocado, crumbled queso fresco, limes, and cilantro.
Originally featured in Pressure Cooker Recipes to Satisfy Every Cold-Weather Craving