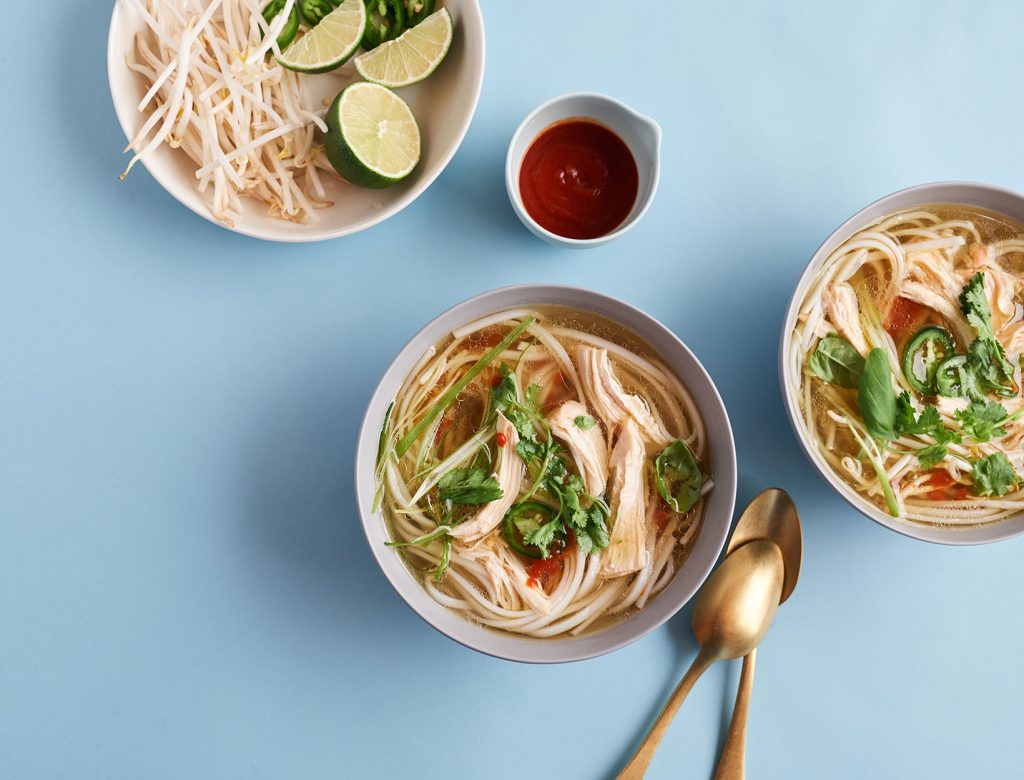 Pressure Cooker Chicken Pho
Making homemade broth is not difficult, per se, but it sure does take a long time. That's where the pressure cooker comes in: You'll get deeply flavored broth in a fraction of the time, and you'll want to save all the leftovers for making soups, cooking grains or even sipping on for a warming savory treat. We added a few key ingredients (ginger, star anise, coriander) to make this broth work for pho, but you could totally use this process with different aromatics in other dishes.
1. First, set your pressure cooker to brown and allow it to preheat for a few minutes. While it heats, up drizzle a small amount of olive oil over the cut sides of the onion and ginger. Once hot, place the onions cut side down in the pressure cooker and let them cook for 5 to 10 minutes. Once nicely charred, pull them out and set aside. Repeat this process with the ginger. Remove and turn off the browning function.
2. Add the ginger and onion back in to the pressure cooker along with all the rest of the ingredients and top with the water to the max fill line. Secure the lid, set the steam valve to "pressure," and set to pressure cook for 1 hour. When done, carefully open the valve from "pressure" to "steam" (watch out for hot steam), and unlock the top.
3. Strain the broth, discarding everything but the chicken breasts. Set those aside and pull into bite-size pieces for pho.
4. To assemble the pho, divide the chicken and noodles among four bowls and top with hot broth. Serve with herbs, bean sprouts, hoisin, and sriracha.
Originally featured in Pressure Cooker Recipes to Satisfy Every Cold-Weather Craving