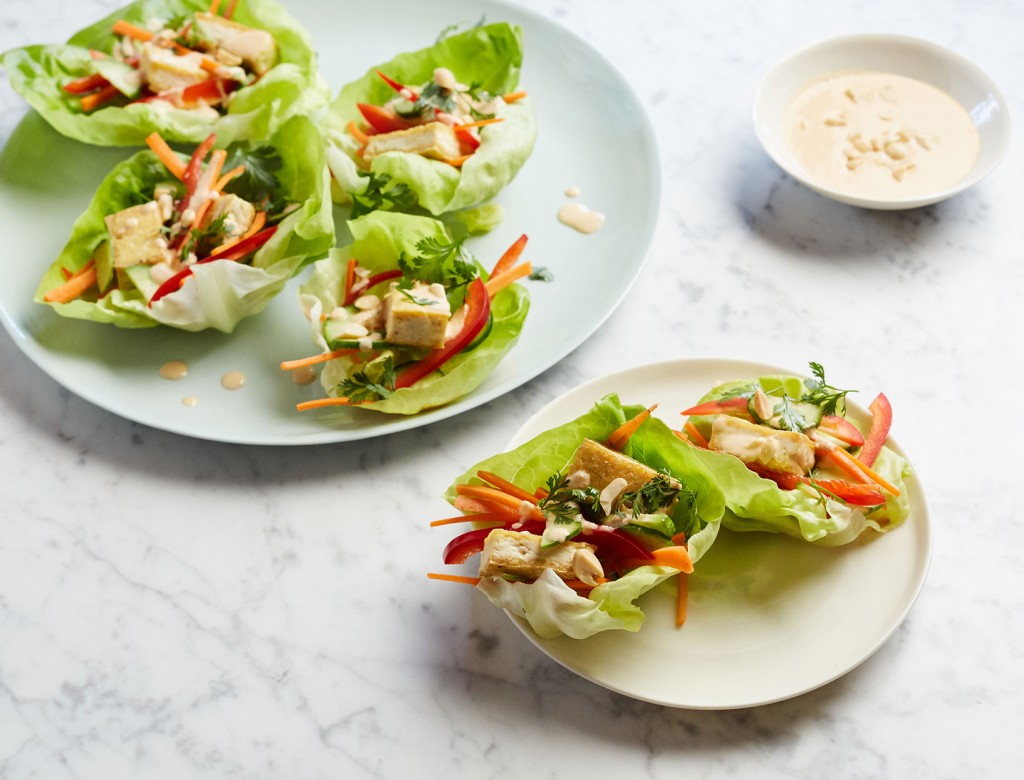 Pressed Tofu Lettuce Wraps
We love a lettuce cup around here, and these ones don't disappoint.
1 package extra-firm tofu
grape-seed or coconut oil
12 butter lettuce leaves
½ cup peanut sauce
2 carrots, julienned
1 Persian cucumber, thinly sliced
1 red pepper, thinly sliced
¼ bunch cilantro, roughly chopped
1. Cut the tofu in half crosswise and then slice each half into thirds to create 6 even planks. Line a small baking sheet with paper towels or a clean kitchen towel. Place the tofu on the towel and cover with another layer of towels. Place another baking sheet on top of the tofu and weight it down with a few cans or a heavy pot. Let sit for 30 minutes. This step removes extra water from the tofu, allowing it to get super crispy in the pan.
2. Cut each plank into 4 equal strips and heat a medium sauté pan over high heat.
3. Pour in enough oil to cover the bottom of the pan by ¼ inch and heat until it begins to shimmer.
4. Working in batches, lay the tofu in the pan, away from you to avoid getting splattered with oil. Gently shake the pan to prevent the tofu from sticking. Fry until the edges begin to brown and turn golden, about 2 minutes, and then flip. Fry for an additional 2 minutes on the other side, or until evenly golden. Remove from the pan and place on a baking rack or paper towels and season with salt. Repeat until all the tofu is fried.
5. Arrange the lettuce on a large platter. Spread a spoonful of peanut sauce on each leaf. Divide the tofu, carrot, cucumber, bell pepper, and cilantro among the leaves. Drizzle with additional peanut sauce to serve if desired.
Originally featured in 1 Sauce, 5 No-Fuss Weeknight Dinner Ideas