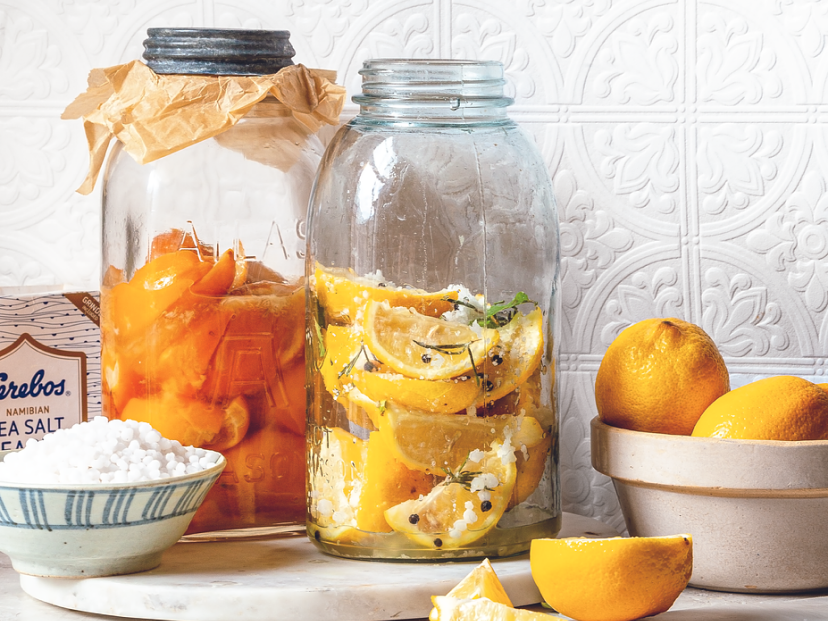 Unique ingredients, spices, and foods in pretty packaging are the first things I seek out when traveling because they always reignite my passion for cooking. Preserved lemons have been the best addition to my pantry because they add a salty, almost floral pop of flavor to recipes that need a little something extra. Before I started making my own, I first learned about the mellow yet intensely lemony Moroccan condiment from my friends Ron and Leetal Arazi of New York Shuk. If you'd rather buy a jar, they offer both whole preserved lemons and paste of very high quality, available online. If, however, you do find yourself with some lemons, preserving them at home is a straightforward process. The only caveat is that they need at least three weeks until they're ready, but once the lemons are preserved they keep for up to six months in the refrigerator.
Once I make a batch, I can use the preserved lemon rind in myriad ways: minced in a vinaigrette, puréed to stir into stews, and sliced and stuffed into a whole chicken before roasting. Either homemade or store-bought, they're a must in recipes like the Wild Rice Bowls with Roasted Beets, Goat Cheese, and Preserved Lemon Drizzle.
1. In a large nonreactive bowl, combine the lemons with the salt and massage by hand until the lemons are fully coated and their juices start to seep out. Add the peppercorns, bay leaves, and rosemary sprigs, then use a muddler or potato masher (or even a heavy jar) to press down on the lemons until they release as much juice as possible.
2. Divide the lemons, peppercorns, and herbs among the jars and pour over any juice left in the bowl, using the muddler to immerse the lemons in liquid. Close the jars and store in a cool, dry place for 1 week, then refrigerate for up to 6 months. The lemons are ready when the salt in the jars is fully dissolved and the liquid is clear, about 3 weeks. To use, remove a lemon from the jar with a fork and scrape away the flesh (it's much saltier than the preserved rind). Thinly slice the rind or use the flat side of a knife to purée it before using in a recipe.
Note: Here's an easy method to sterilize canning jars without having to deal with a large pot of boiling water: Preheat the oven to 250°F with a rack in the bottom position. Wash your jars in hot soapy water and rinse and dry thoroughly, then place them on the bottom oven rack for 25 to 30 minutes. Use grip tongs or oven mitts to remove the jars and fill them while still warm before closing with nonreactive lids.
Excerpted from South of Somewhere. Copyright © 2023, Dale Gray. Photography copyright © 2023 by Dale Gray. Reproduced by permission of Simon Element, an imprint of Simon & Schuster. All rights reserved.
Originally featured in Quick Recipes for Flavor-Packed Dinner Bowls