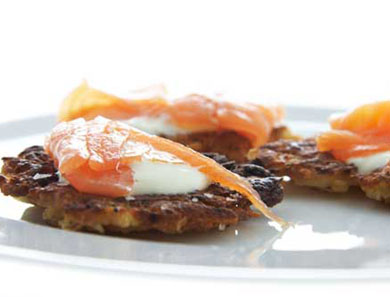 Potato and Apple Latkes with Smoked Salmon
Combining apple with the potato lends a welcome sweetness and roundness to these fun and festive latkes, best served to a crowd.
1. Put the grated potato and apple in a bowl of cold water and swish them around. This will get some of the starch out, which helps get your latkes crispy. Drain the potato and apple and squeeze out as much moisture as you can with your hands (or wrap in a clean tea towel and wring dry). Again, crisp is the goal.
2. Mix everything but the olive oil together in a large mixing bowl. Add a bit more matzo meal if the mixture is very loose (it shouldn't be if your vegetables are nice and dry).
3. Form into whatever size latkes you prefer—I like to pinch off large tablespoons of the mixture and flatten them into thin pancakes using my fingertips.
4. Heat the olive oil in a large nonstick pan over medium-high heat. Fry the latkes in batches (don't overcrowd the pan), about a minute or two on each side or until browned and crisp. Regulate the heat while frying—you want the pan to be hot enough to brown the latkes quickly, but not smoking.
5. Drain the latkes on paper towels, sprinkle with a bit more salt, dollop with sour cream, and drape a little slice of smoked salmon over each. Serve immediately.
Originally featured in Holiday Recipes