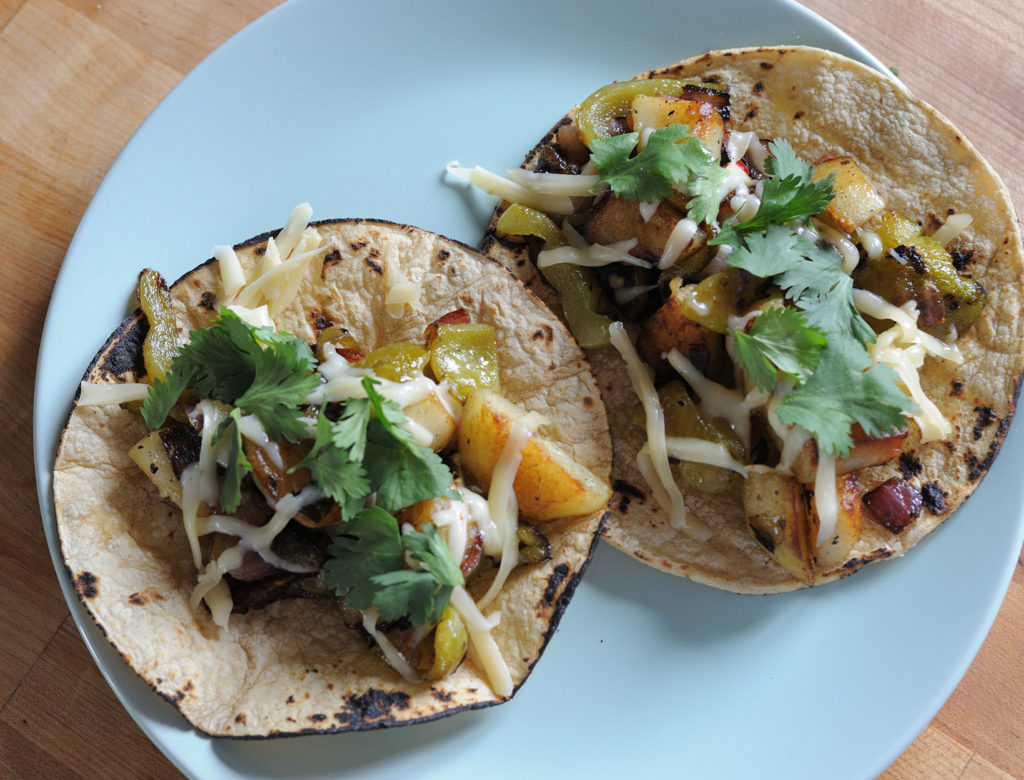 These tacos were inspired by the popular Mexican dish papas con rajas. It's traditionally made with poblano peppers, but we wanted to find a use for the oft-maligned green bell pepper. Turns out charring the green bell before cooking it adds a smoky depth that mellows its bitterness. Stuffing it in a tortilla along with crispy potatoes, red onion, and cilantro will make any green bell hater change their tune.
1. First, char the pepper. Rest the whole pepper over the flame of a gas burner. Let it get fully black and charred before rotating to a new side. Once the entire pepper is charred, transfer to a bowl covered with beeswax wrap or cling wrap. Let the pepper steam in the bowl for about 10 minutes.
2. While the pepper sits, cook the potatoes. Heat a heavy-bottomed pan over medium heat and add the oil. Once the oil is hot, add the potatoes. Let them cook for 10 to 15 minutes, not stirring too often so that they develop some nice brown color. Once they've browned and are starting to get more tender, add the onions and a big pinch of salt. Let them cook for another 10 to 15 minutes.
3. While the onions and potatoes are cooking together, peel the pepper. You can remove the pepper's charred skin with your hands or a paper towel. Do not rinse it under running water—this will wash away all the charred flavor you just developed. Once it's peeled and deseeded, slice it into ½-inch-thick strips. Add these to the onion and potato mixture. Taste the mixture and adjust for seasoning, salting as needed. The potatoes should be fork-tender by now, but if they need another 5 minutes or so that's fine—all the flavors will meld together while they finish cooking. You can use those last few minutes to prep your toppings (grate cheese, pick cilantro leaves, warm tortillas).
4. To assemble, spoon some of the potato-onion-and-pepper mixture into a warm tortilla. Top with a little salsa, shredded cheese, cilantro, and hot sauce if desired.
Originally featured in Recipes and Strategies to Make the Most of a CSA Box or Any Vegetable Haul