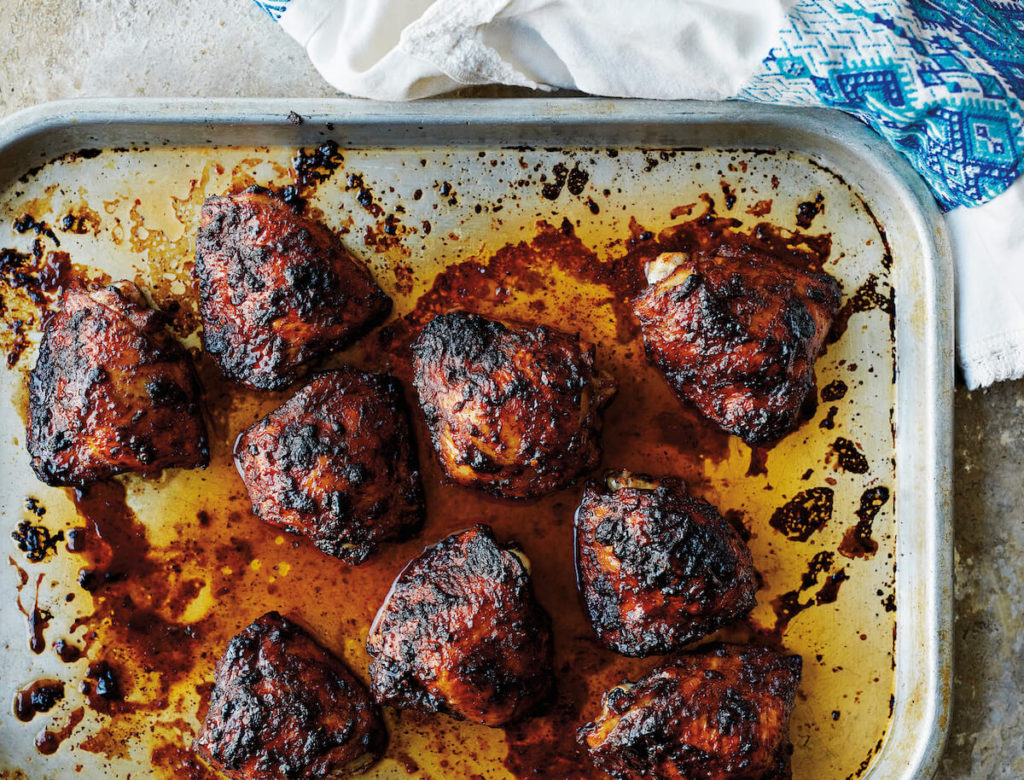 Pomegranate & Sumac Chicken
"This is an easy chicken sheet pan recipe inspired by a meal I ate at Reem, a restaurant on the Greek island of Lesvos run by Mahmud Talli. Mahmud is a powerhouse of energy and, when I met him, he was splitting his time between volunteering at a local community center and running this restaurant. A Syrian doctor who managed to escape the war, Mahmud found himself trapped on the island after seeking refuge there, and soon put all his efforts into helping to provide services for new arrivals to Lesvos. Reem serves traditional Syrian food to hungry tourists, volunteers, locals, and refugees alike and this was one of my favorite dishes on the menu, a sticky roasted leg of chicken that can be marinated ahead of time and just popped into the oven shortly before eating. If you don't want to use chicken thighs, this also works with a whole chicken, jointed into eight pieces." —Yasmin Khan
1. Place the chicken in a large bowl and pour all the marinade ingredients over it with 1½ teaspoons salt and ½ teaspoon black pepper. Using your hands, massage this into the chicken until it is evenly coated, then cover and transfer to the refrigerator to marinate for at least 3 hours.
2. When you are ready to eat, take the chicken out of the refrigerator and let it come to room temperature (this will take about 20 minutes).
3. Preheat the oven to 400°F.
4. Place the chicken on a rimmed baking sheet and drizzle with the olive oil. Transfer the sheet to the oven and roast for about 35 minutes, or until the juices from the chicken run clear when it is pierced at the thickest part.
Reprinted from Ripe Figs: Recipes and Stories from Turkey, Greece, and Cyprus. Copyright © 2021 by Yasmin Khan. Published by W.W. Norton & Company. All rights reserved.
---
We hope you enjoy the book recommended here. Our goal is to suggest only things we love and think you might, as well. We also like transparency, so, full disclosure: We may collect a share of sales or other compensation if you purchase through the external links on this page.