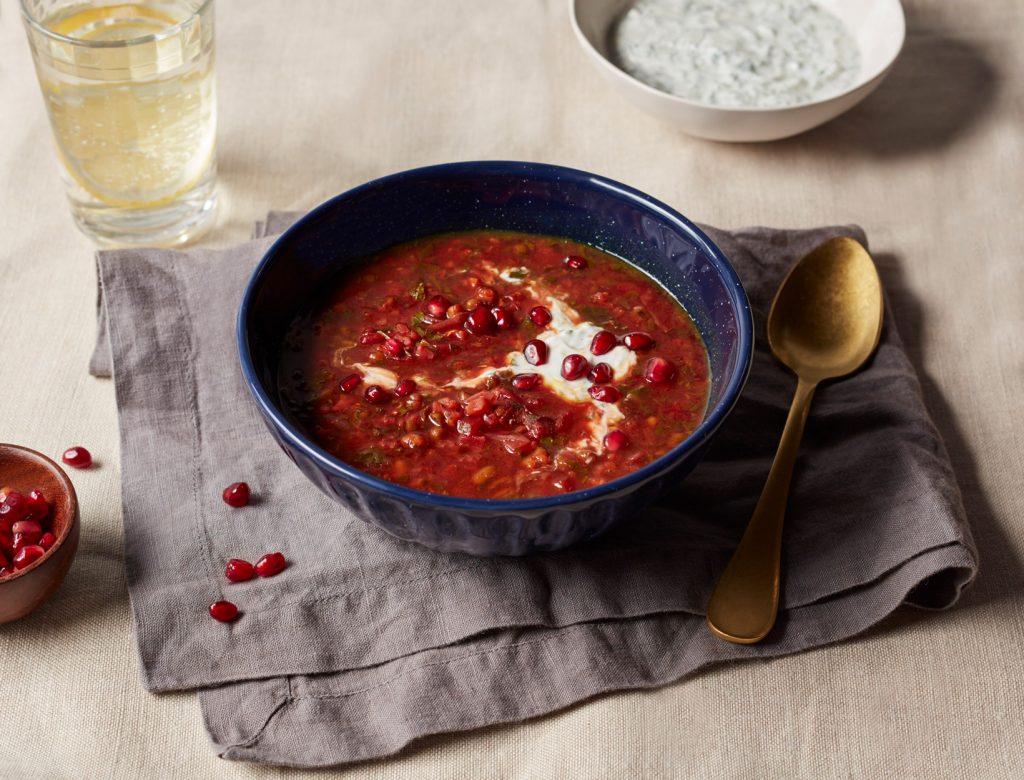 Pomegranate Soup
This rich, traditional Iranian soup is perfect for cold winter days. Full of nutrients, its bright flavors make it a solid get-well soup.
Scant cup mung beans
3 tablespoons sunflower or light olive oil
2 medium onions, finely chopped
4 garlic cloves, finely chopped
1 teaspoon cumin seeds
1 teaspoon turmeric
4 cups water
⅓ cup pudding rice (short grain white rice)
1 medium beet (about 5 oz.) peeled and finely grated
4 tablespoons pomegranate molasses
3 cups good quality chicken or vegetable stock
1 teaspoon sea salt
½ teaspoon black pepper
1 small bunch parsley finely chopped
1 small bunch mint, finely chopped
1 medium bunch cilantro, finely chopped
3 tablespoons extra-virgin olive oil
For the topping:
1 garlic clove crushed
½ Greek yogurt
3 tablespoons cilantro, chopped
½ cup walnuts, roughly chopped
3 tablespoons pomegranate seeds (optional)
1. Wash the mung beans and leave to soak in a large bowl of water for 15 minutes before draining.
2. Heat the oil in a large heavy-based pan with a lid. Add the onion and fry over a low heat for 10 minutes (with the lid off).
3. When the onion has softened, add the garlic and fry for another 2 minutes.
4. Toast the cumin seeds in a small pan over a low heat for 1 minute. Grind the toasted seeds with a pestle and mortar or a spice grinder, and add to the onion pan along with the turmeric, soaked mung beans, and water. Cover and simmer for 35 minutes.
5. Add the rice, beets, pomegranate molasses, stock, salt, and pepper, and cook for 20 min.
6. Add the herbs and olive oil and cook for a final 10 minutes. You may need to add a touch more water if the soup is looking too thick. Taste and adjust the seasoning to your preference.
7. When the soup is ready, prepare your toppings. In a small bowl, mix the garlic, yogurt, and cilantro. Lightly toast the walnuts in a small pan over a medium heat for 1 minute.
8. Serve the soup with a generous dollop of yogurt and finish with the toasted walnuts and pomegranate seeds, if you are using them.
Originally featured in Feel-Better Foods from Around the World