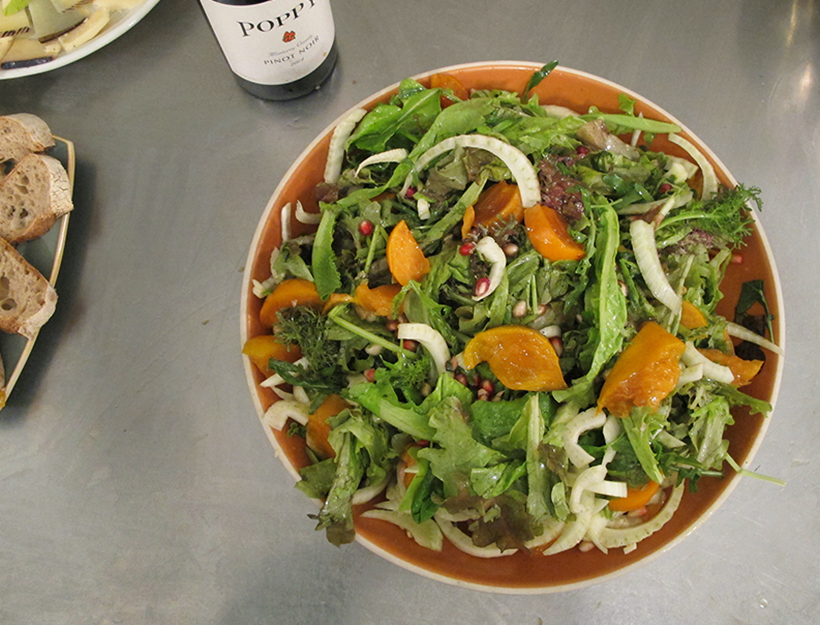 Pomegranate and Persimmon Salad
This recipe, adapted from Feasting At Home, is the embodiment of fall on a plate.
1. Slice persimmons in half, and cut into ¼-in slices.
2. Separate pomegranate seeds from pith. To do this, fill a medium-sized bowl with water. Cut the pomegranate into fourths, and submerge in water. As you separate, the pith will float to the top, and you'll be spared the mess.
3. Slice fennel bulb into thin rounds, and separate each layer into strands, discarding the thick white center of the bulb.
4. If using, toss arugula and other mixed greens into large bowl. Lay fennel, persimmon slices, and pomegranate seeds on top.
5. In a separate small bowl, mix together lime juice and zest, honey, olive oil, and salt and pepper. Peel and finely chop garlic, and add to dressing. Stir and let sit for five minutes.
6. Pour dressing over the salad, and gently massage to mix. Serve!
Originally featured in The Memorial Dinner Party