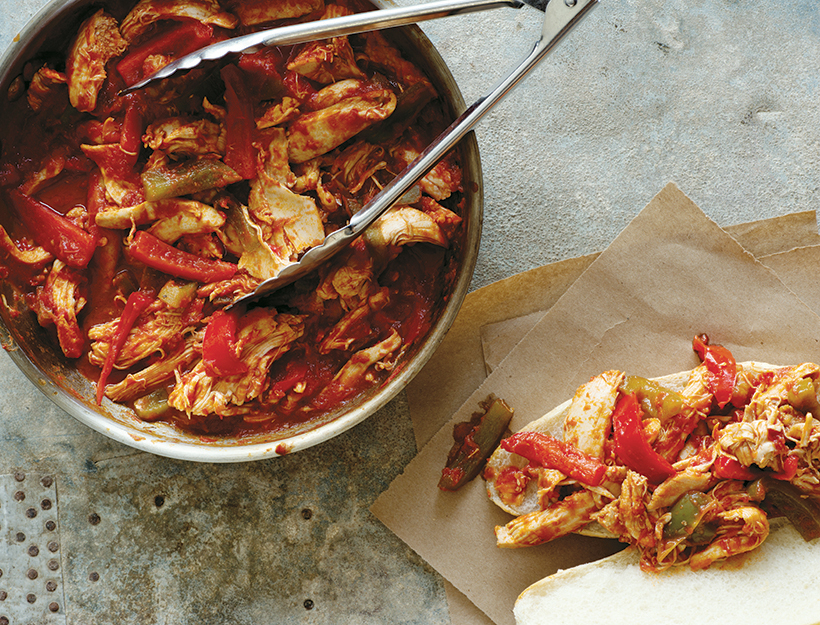 Pollo alla romana is a dish long associated with Ferragosto, the August 15 holiday that celebrates the Assumption of the Virgin Mary. Local chefs and home cooks alike now serve it all summer long when temperatures rise and they want to make food they can prepare in the relatively cooler mornings and serve lukewarm at lunchtime. For a more delicious final product, season the chicken with salt at least 6 hours and up to 24 hours before cooking. In Rome, it is common to use a mixture of red and yellow bell peppers. This color motif is popular, also seen in the colors of the city flag and AS Roma, one of Rome's two professional soccer teams.
1. Heat the olive oil in a large skillet over medium heat. When the oil begins to shimmer, add the chicken, skin-side down, and cook for 8 to 10 minutes, until it is browned on all sides, adjusting the heat as necessary to prevent burning. Reduce the heat to low, remove the chicken, and set aside.
2. Add the onions, bell peppers, and garlic to the same pan and cook until the onions and peppers have softened, about 10 minutes. Add the wine, increase the heat to medium, and scrape up all the browned bits from the bottom of the pan.
3. Once the alcohol aroma dissipates (about a minute), add the marjoram and tomatoes.
4. Return the chicken to the pan and add enough water to submerge it halfway. Cook, stirring occasionally, for 30 minutes more, until the chicken is tender and nearly falling away from the bone, and the sauce is thick and deep red, but not dry. If the sauce becomes too dry, add a bit more water.
5. Serve immediately as a stand-alone dish. You can also reheat deboned leftovers to serve with crusty bread.
Note: To prevent the breast from drying out, you may want to remove it from the pan before the legs and thighs.
Reprinted from Tasting Rome: Fresh Flavors and Forgotten Recipes from an Ancient City. Copyright © 2016 by Katie Parla and Kristina Gill. Photographs copyright © 2016 by Kristina Gill. Published by Clarkson Potter/Publishers, an imprint of Penguin Random House LLC.