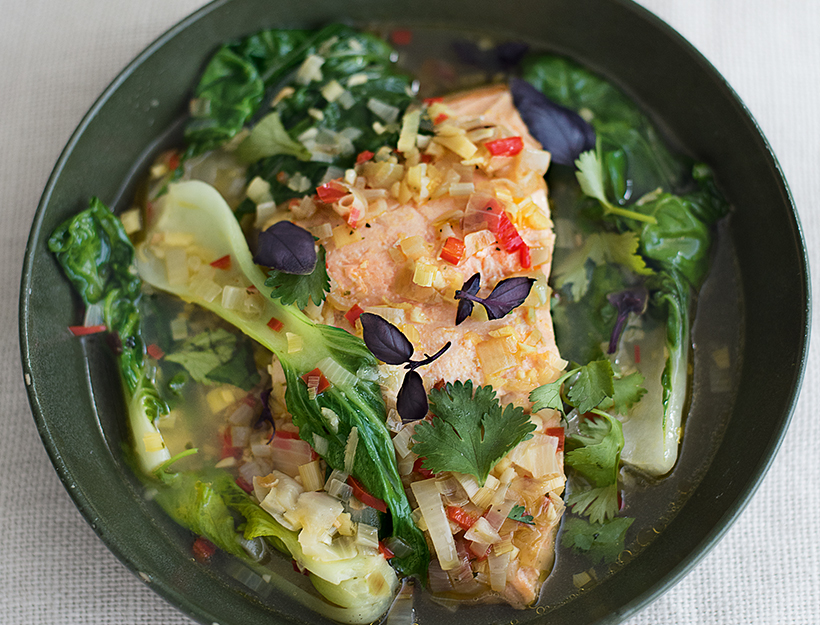 Poached Thai Salmon with Bok Choy
"This fail-safe meal is tasty, delicious, and filling," says nutritional therapist Amelia Freer. It's got vitamin A (thanks to the bok choy) and omega-3 fatty acids (thanks to the salmon). Freer keeps this in her arsenal of skin-healthy recipes: "This dish is perfect nourishment from the inside out."
1. Heat 1 tablespoon of coconut oil in a medium saucepan and fry the shallots, garlic, ginger, and chili for a few minutes to soften. Add the lime leaf and lemongrass to the pan and cook for another minute.
2. Pour in the stock, bring to a boil, then reduce the heat. Simmer gently for 10 to 12 minutes to infuse the flavors. Add the salmon fillets and allow to poach for 7 to 8 minutes over gentle heat. Add the bok choy leaves for the last minute of cooking.
3. Arrange the salmon fillets and bok choy in serving bowls and ladle the fragrant broth over the top—remove the lime leaf and lemongrass before serving. Garnish with cilantro.
Originally featured in London's Top Nutritionist on Eating for Beauty