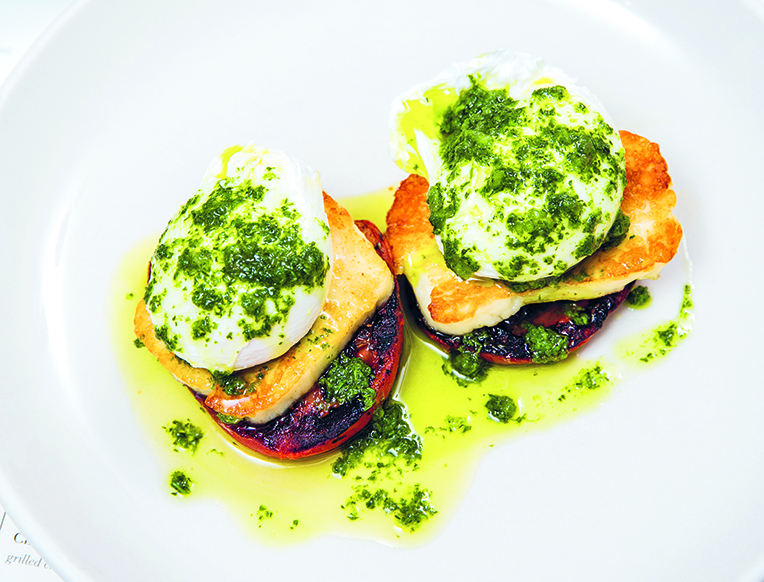 Poached Eggs with Roasted Tomatoes and Halloumi
Who needs an English muffin when you have sweet roasted tomatoes and salty Halloumi as a base for your perfect poached egg?
1. Preheat the oven to 375°F.
2. Wash the plum tomatoes and cut in half lengthwise. Arrange the tomatoes cut side up on a baking rack over a baking sheet to catch any juices. Drizzle with 1 tablespoon olive oil and season with salt. Pick fresh thyme leaves and spread them over all the tomatoes. Bake for 1 hour and 15 minutes, or until the edges of the tomatoes begin to caramelize.
3. To make the salsa verde, chop the parsley very finely and transfer to a small bowl. Finely mince the shallot and garlic, then add to the parsley. Add the lemon zest to the parsley with the sherry vinegar. Mix well by hand while slowly adding the olive oil. Season with salt.
4. Cut the Halloumi crosswise into 1-inch-thick slices. Heat remaining 1 tablespoon olive oil (or a little less if your pan is nonstick) in a cast-iron pan over high heat until very hot. Sear the cheese until golden in color on both sides, 30 seconds to 1 minute per side, and transfer to a plate.
5. For each serving, begin by placing 2 oven-roasted tomatoes side by side on a plate. Place a slice of seared Halloumi on each tomato, followed by a poached egg. Spoon a tablespoon of the salsa verde onto each egg, being sure to give the salsa a quick mix if need be before ladling it onto the egg.
From Jack's Wife Freda: Cooking from New York's West Village by Maya and Dean Jankelowitz. Recipes by Julia Jaksic. Published by Blue Rider Press, an imprint of Penguin Publishing Group, a division of Penguin Random House LLC. Copyright © 2016 by NoamBennyLLC. Photo: Henry Hargreaves
Originally featured in goop Cookbook Club: Jack's Wife Freda