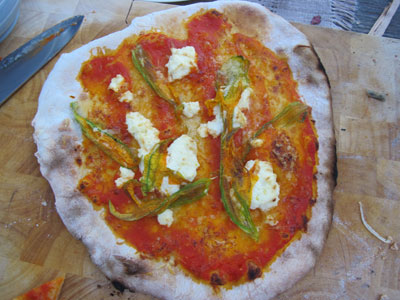 Spring Squash Blossom Pizza
A wonderful, unique and delicious way to use up those spring squash blossoms, which pair perfectly with the ricotta.
1. Break off pieces of the dough and stretch with your fingers until quite thin. You can also roll your dough out using a rolling pin.
2. Now top your pizza, starting with the pizza sauce. Be sure not to put too much sauce on (this will weigh it down) and don't go too close to the edge as this will make it hard to slide your peel under the pizza.
3. Dot each pizza with the ricotta, sprinkle with the squash blossoms and as much parmesan as you like.
4. Stick them in the oven. If your oven is nice and hot, the pizza should be perfectly cooked and crisp in two minutes.
Originally featured in Homemade Pizza