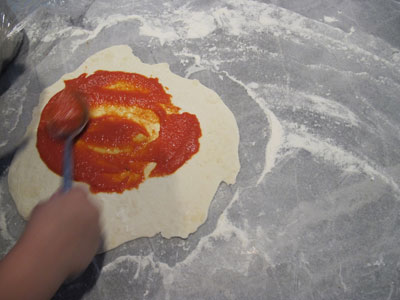 Pizza Sauce
This basic sauce is perfect for homemade pizza. Make in advance for a seamless pizza-making experience.
2 tablespoons extra virgin olive oil
1 carrot, peeled and finely diced
1 small yellow onion, peeled and finely diced
1 28-ounce can whole peeled tomatoes with their juice
1 teaspoon coarse salt
1. Heat the olive oil in a saucepan over medium heat.
2. Add the carrot and onion and cook, stirring now and then, until softened but not ground, about 8 minutes.
3. Add the tomatoes and their juice and the salt. Turn the heat to high and bring to a boil. Turn the heat to low and let the sauce simmer for 40 minutes.
4. Carefully puree in a blender until very smooth.
5. Let it cool before saucing your pizzas. This can be made up to a week ahead.
Use with our Pizza Dough to make our following signature pizzas:
Classic Margherita
Spring Squash Blossom
Special "Quattro Formaggi"
Clam
Originally featured in Homemade Pizza