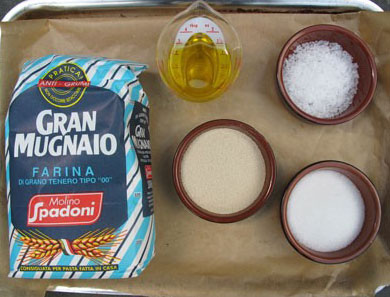 This dough gives the perfect amount of chew and crisp. Top with our pizza sauce and one of our pizza combos or make your own.
1. For the dough, whisk together 3/4 cup of the water, the sugar, and the yeast in a large bowl and let stand until the surface has a few little bubbles and is creamy (about 5 minutes).
2. Add 1 1/2 cups water, 3 3/4 cups flour, olive oil and salt and stir until smooth. While stirring, gradually add up to another cup of flour until the dough starts to pull itself from the edges of the bowl.
3. Knead the dough on a generously floured surface until it's elastic and smooth—it will take about 8 minutes of hard work. Dust the surface with flour as you go—you don't want the dough to stick.
4. Form the kneaded dough into a ball, dust with flour, and gently place in a large bowl and cover with plastic wrap or a tea-towel. Let it rise in a warm spot until doubled, about 1 1/2 hours. You can let it sit for up to a couple of hours or even overnight in the refrigerator.
5. To assemble pizzas, break off pieces of the dough and stretch with your fingers until quite thin. You can also roll your dough out using a rolling pin.
Use with our Pizza Sauce to make our following signature pizzas:
Originally featured in Homemade Pizza