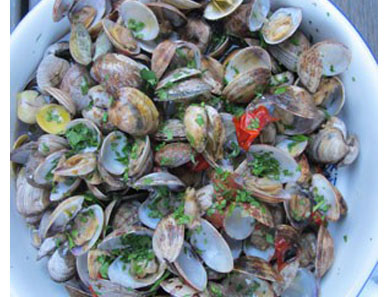 This pizza screams summer, and is really fun and impressive for entertaining. Best served al fresco.
1. Break off pieces of the dough and stretch with your fingers until quite thin. You can also roll your dough out using a rolling pin.
2. In an oven-proof baking dish, combine the clams with the olive oil and garlic. Using your hands, crush over the tomatoes. Sprinkle with red chili flakes. Pour the wine over the mixture and roast until the clams are open (about 10 minutes).
3. Spoon the juice from the clam dish over the pizza dough. Sprinkle a small handful of grated parmesan. Shuck the clams and spread them over the dough.
4. Stick the pizza in the oven. If your oven is nice and hot, the pizza should be perfectly cooked and crisp in two minutes.
5. When it's done cooking sprinkle with chopped fresh parsley.
Originally featured in Homemade Pizza