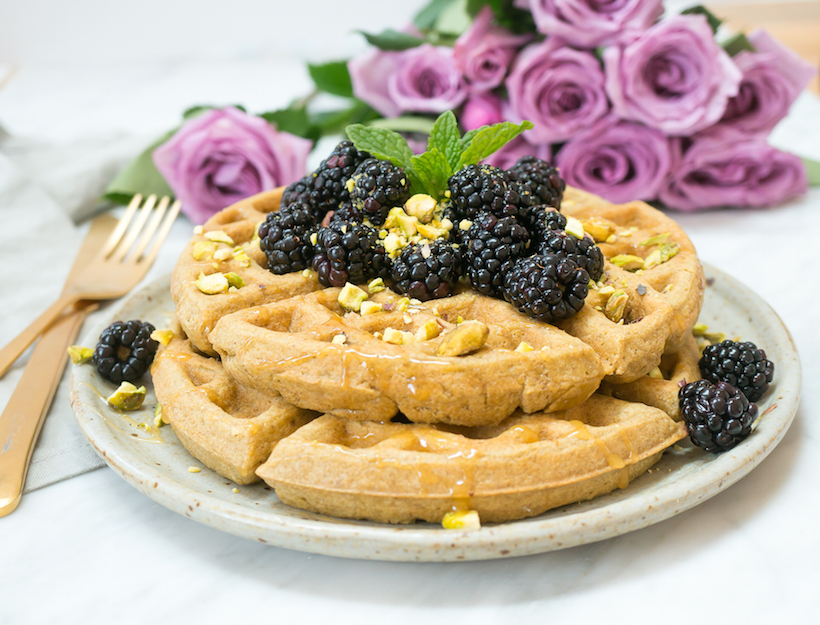 Pistachio Cardamom Waffles with Rose-Soaked Blackberries
This may be my favorite breakfast ever, healthy or otherwise. Pistachio milk gives these waffles an exotic, subtle undertone highlighted by the earthy, sweet cardamom and the fragrant blackberries. These pull from some of my favorite flavors of the Middle East—and some of the most potent, health benefiting foods, too. Pistachios are rich in potassium and Vitamin K, while cardamom helps soothe the stomach and eliminate waste through the kidneys, making it a perfect detoxifying food. While they taste incredibly decadent—you won't be able to tell the difference between these and your favorite unhealthy waffle recipe—these are also gluten-free, optionally vegan, and contain only nourishing, whole food ingredients.
for the rose soaked blackberries:
1. Sprinkle the rose water over the blackberries. Toss until they're well coated; place in refrigerator until ready to serve.
for the pistachio milk:
1. Blend pistachios and water on high for 1 minute.
2. Strain through a fine mesh strainer or nut milk bag.
3. Discard pulp. You'll need ¾ cup pistachio milk for this recipe; reserve the rest for another use.
for the waffles:
1. Combine all dry ingredients in a bowl and mix together until evenly distributed.
2. In another bowl, beat together eggs (or flax or chia eggs), ¾ cup pistachio milk, maple syrup, and vanilla until very well combined.
3. Slowly add the wet ingredients to the dry; mix until mostly combined (it's okay if a few small chunks remain). Pour into a heated waffle maker; let cook until done.
4. To serve, topped with rose-soaked blackberries.
Originally featured in A Quick, Three-Day Summer Detox