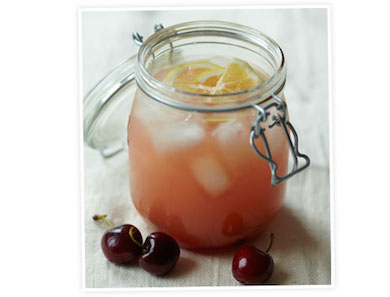 Muddled cherries give this lemonade the perfect pink hue, without using anything artificial or sugar.
1. In a small saucepan, combine the agave, lemon peels, and 1 cup water. Bring to a gentle boil over medium-high heat. Simmer until agave is dissolved. Remove from heat and cool.
2. Muddle the cherries with a mortar and pestle. Add to a large pitcher. Add water and lemon juice.
3. Remove the lemon peels from the agave water and add the liquid to the pitcher. Stir to combine. Serve over ice in Mason jars.
Originally featured in London Picnic