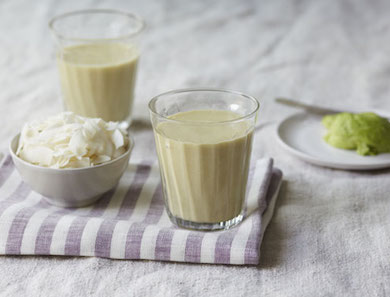 Piña Colada Smoothie
This dairy-free tropical breakfast drink is tasty, transporting, and super healthy to boot. A fun, guilt-free way to start the day.
3 tbsp non-dairy protein powder made with pea or hemp (preferably) or with flax or rice protein (or a blend)
4 – 6 oz water
4 – 6 oz unsweetened vanilla almond milk
1 cup frozen pineapple pieces
small piece of avocado – about 1/5 of a large avocado or 1⁄4 of a small one
1 tbsp coconut oil
1 tbsp shredded unsweetened coconut
2 – 4 cubes ice
1. Add all ingredients to blender.
2. Pulse until smooth and creamy.
3. Pour into a glass and enjoy.
Originally featured in A Better Breakfast