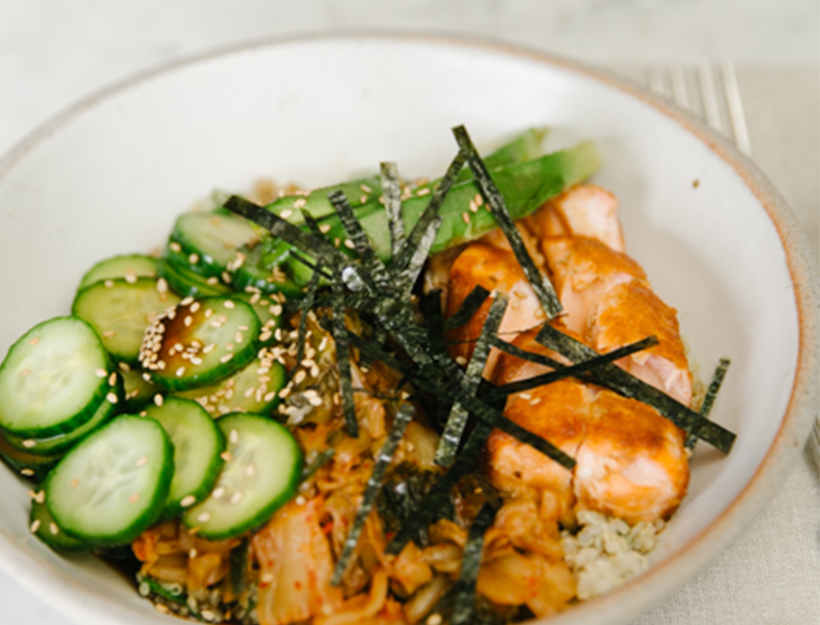 Pickles + Salmon Grain Bowl
Grain bowls are genius: easy to make, super versatile, and always filling. We top this one with pan-seared salmon, but grilled chicken or tofu would also work well.
¼ cup quinoa, rinsed
1/3 cup water
salt
1 cup packed spinach, roughly-chopped
1 4-oz piece wild salmon
1 teaspoon olive oil
¼ avocado, thinly sliced
¼ nori sheet, cut into thin strips
¼ cup kimchi, roughly-chopped
1 teaspoon toasted sesame seeds
for the pickled cucumbers:
1 Armenian cucumber
½ teaspoon salt
½ teaspoon coconut sugar (or whatever sugar you have)
¼ teaspoon very finely grated fresh ginger, optional
1 tablespoon red wine vinegar
water to cover
for the sauce:
1 tablespoon soy sauce
1 tablespoon rice wine vinegar
splash sesame oil
1 teaspoon kimchi juice
1. First, make the pickled cucumbers: thinly slice the cucumber and place in a bowl with the salt, coconut sugar, fresh ginger (if using), and red wine vinegar. Add enough water to just cover the cucumber and let sit at room temperature while you prepare the grain bowl.
2. Combine quinoa, water, and a pinch of salt in a small saucepan over medium heat. Bring the mixture to a boil, then reduce the heat to maintain a very low simmer, cover, and cook for 12 minutes, or until the water is absorbed and you can see the little tails around each seed.
3. Remove from the heat and stir in the chopped spinach and another pinch of salt. Cover the pot with a paper towel, place the lid on top, and let the quinoa and spinach steam in the pot for 10 minutes.
4. While the quinoa cooks, heat a small sauté pan over medium high heat to cook the salmon. Pour the teaspoon of oil over the salmon, rubbing it all over the flesh and skin and season the fish generously with salt and pepper.
5. When the pan is hot, add the salmon, skin side down, and cook for about three minutes, or until the skin is nice and crispy. Flip the salmon over and cook another 2-3 minutes (cook a minute less on each side if you like your fish medium-rare).
6. To make the sauce, simply whisk together all ingredients in a small bowl.
7. When ready to eat, place the quinoa and spinach mixture in the base of a bowl and top with salmon, sliced avocado, kimchi, pickled cucumbers, and nori strips.
8. Garnish with sesame seeds and pour over the sauce just before eating.
Originally featured in Great Skin—Inside and Out: A Protein-Packed Bowl