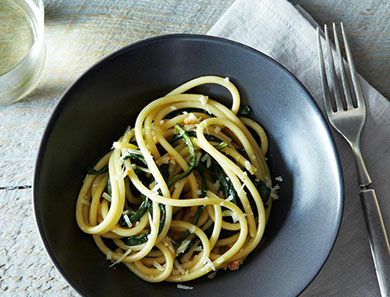 Pici Pasta with Dandelion Greens
The creaminess of the eggs and the chili are the perfect complement to the bitterness of the dandelion greens. This is almost like a light, veggie carbonara.
12 ounces pici pasta
1 bunch dandelion greens, washed
1 garlic clove, thinly sliced
1/4 cup extra virgin olive oil
2 eggs, lightly beaten
kosher salt
1 teaspoon Aleppo pepper or dried crushed chili
1/4 cup grated fresh Pecorino Romano cheese
2 tablespoons coarse fresh bread crumbs
1. Bring a large pot of water to a boil with 2 tablespoons of kosher salt. Slice the stems off the dandelion greens until only about ½-inch remains. Heat the oil and garlic in a sauté pan until the garlic becomes fragrant and starts to sizzle (but not browning). Toss in the dandelion greens and move them around in the pan. Cook partially covered until the greens are wilted and softened, about 5 minutes. Set aside.
2. Meanwhile, cook the pasta until al dente—it will take a bit longer to cook than spaghetti or thinner long pasta shapes. Just before draining, scoop out 1/3 cup of the pasta water and slowly whisk it into the eggs. Add the drained pasta to the sauté pan, drizzle in the eggs and chili, and then toss everything together. Taste for seasoning and add more salt, if needed. Stir the Pecorino and breadcrumbs together in a little bowl; sprinkle over the pasta and serve.
Originally featured in Dark, Leafy Green Recipes