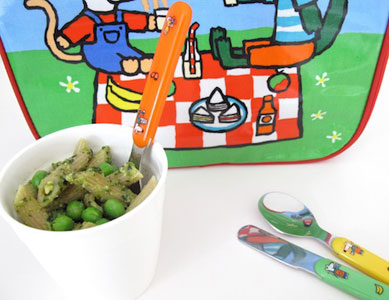 This is great served at room temperature. Kids don't even realize that the pasta is whole grain when it's tossed with yummy pesto.
1. Pulse the pine nuts in a blender or food processor until minced.
2. Add the garlic, basil and olive oil and pulse until the mixture is nicely pureed.
3. Remove to a bowl and stir in the parmesan cheese.
4. Add salt and pepper to taste. Mix as much of the pesto as you like with the peas and pasta.
Originally featured in Lunch Box