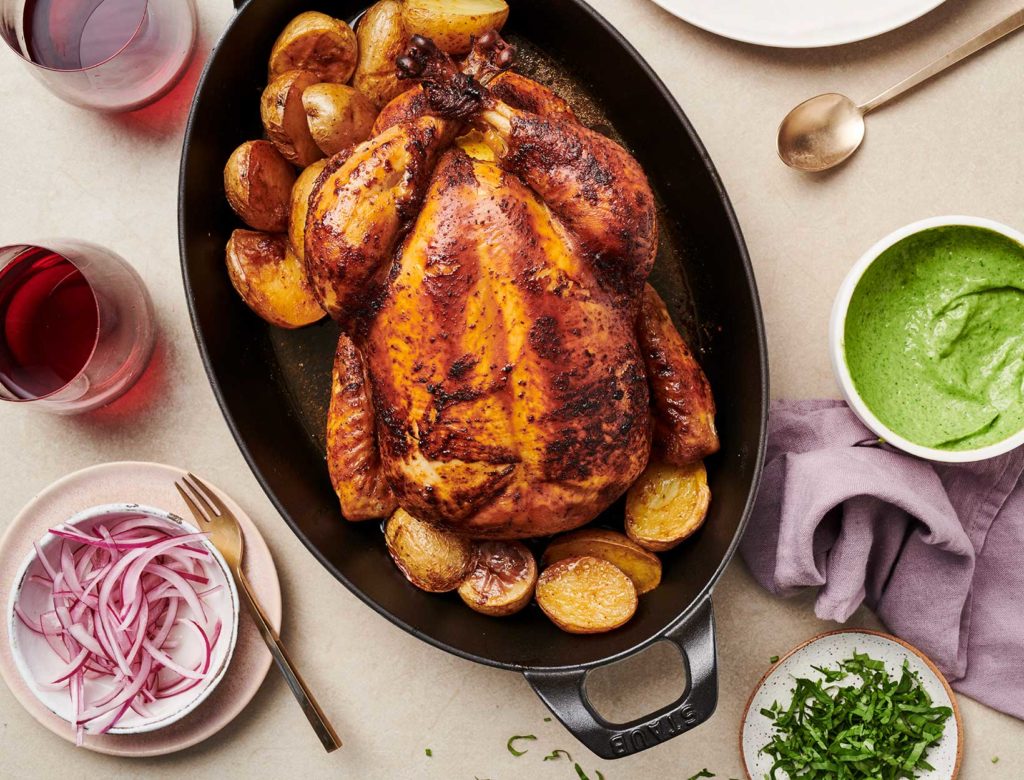 Peruvian-Style Roast Chicken
This dish—a riff on pollo a la brasa—is our ode to Peruvian food, a dynamic, flavorful cuisine that we don't think gets enough attention. The marinade is an example of the diverse ingredients used to create the unique flavor profiles of a Peruvian kitchen. The beer, tamari, and garlic are essential, but the star is the aji panca paste. It's a traditional Peruvian chili paste that you can find in a Latin market or online. In a pinch you could sub with rehydrated pasilla or ancho chilis, but the fruity-smoky flavor of aji panca makes it worth tracking down.
1. Combine the first 7 ingredients and the juice of 1 lime in a blender and blend until smooth. Add the chicken to a 1-gallon zip-top plastic bag (or a reusable silicone food-storage bag) and pour the marinade over it, making sure the chicken has been covered evenly. Let marinate in the fridge overnight.
2. When ready to cook, preheat the oven to 300°F. Transfer the chicken from the bag to a sheet tray. Then toss the potatoes with a generous glug of olive oil and a pinch of salt. Scatter the potatoes around the chicken. Roast for 3 hours, rotating the pan and turning the potatoes halfway through. Let the chicken rest at least 10 minutes before carving.
3. While the chicken rests, toss the red onion with the remaining lime juice and a pinch of salt. If using, make the cilantro dressing.
4. To serve, carve the chicken and plate alongside the potatoes and lime wedges. Scatter the quickly pickled onions over the top of everything along with the cilantro. Serve with the cilantro dressing on the side.
Originally featured in 4 Foolproof Ways to Season and Serve a Roast Chicken