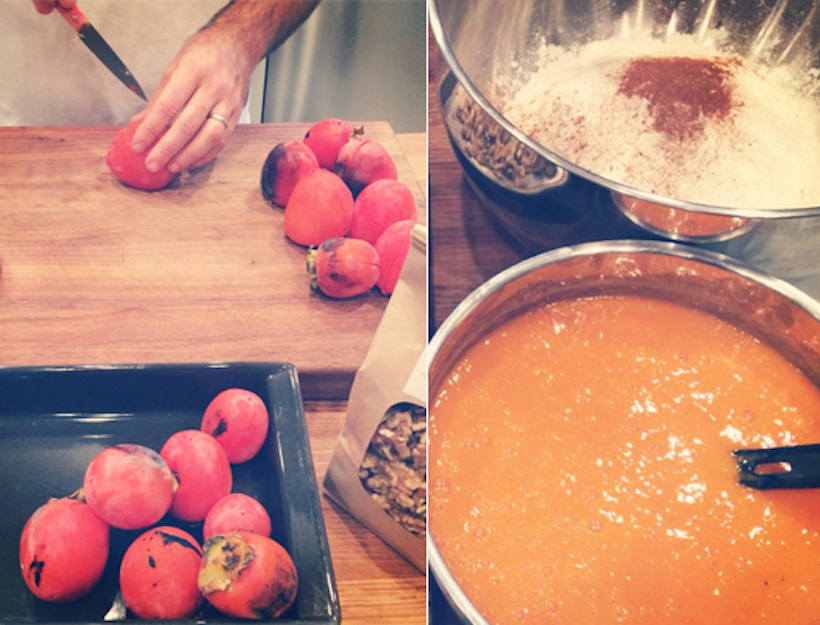 Persimmon Pudding
Bake this pudding in a large dish and serve in the middle of the table, family style.
1 1/2 pounds persimmons, soft and ripe
1 1/4 cups flour
1/2 cup agave nectar
3 eggs
1 cup milk
1/4 cup heavy cream
1 cup walnuts
6 tablespoons unsalted butter, softened to room temperature
1 teaspoon salt
1 teaspoon cinnamon
3/4 teaspoon baking powder
3/4 teaspoon baking soda
1. Scrape the pulp from the skin of the persimmons and place in a blender. Blend until smooth.
2. Place all dry ingredients (flour, salt, baking powder, baking soda and cinnamon) in a large mixing bowl and all wet ingredients aside from butter (persimmon, agave, milk, cream and eggs) in another bowl. Whisk together the wet ingredients until combined and gradually mix into the dry mixture.
3. Meanwhile, lightly toast the walnuts in a 350°F oven for about 5 minutes and let them cool. Melt the butter in a saucepan over low heat and add to the batter along with the nuts.
4. Butter a 9-inch baking pan and pour batter into it. Bake the pudding at 375°F for about 2 hours until the pudding is set. When slightly cooled but still a bit warm, flip over and serve with freshly whipped cream.
Originally featured in A Dinner for the Edible Schoolyard Project