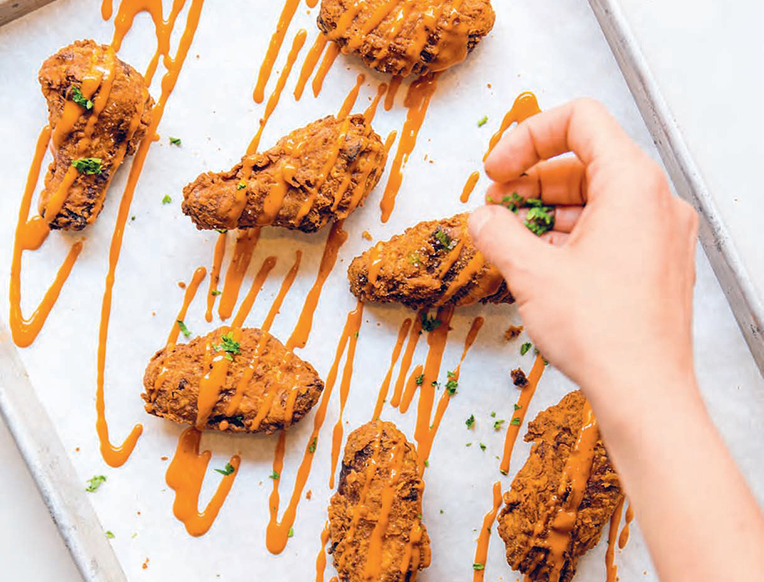 These chicken wings were def the belle of the ball at Cookbook Club. We went for the no-fuss gf baked option JWF suggests, and they were sticky, crispy, saucy, and spicy. We're excited to give the breaded and fried version a go next time!
1. Prepare the spice blend, combining all the ingredients in a small bowl, mixing well so that the brown sugar is evenly distributed.
2. Prepare the sauce. Sauté the garlic and onions over low heat in a medium pan with some olive oil. While the vegetables are cooking, puree the tomatoes in a blender. Once the onion and garlic have softened, add the Peri Peri Spice and mix and pureed tomatoes and combine. Let simmer for 10 minutes so the flavors meld. In a separate small sauté pan or saucepan, heat the butter over low heat until melted, add the flour, and stir to combine. Turn up the heat to medium and add the chicken stock. Stir continuously until the mixture has thickened and comes to a boil. Add the thickened stock to the peri peri mixture, stir well, and turn off the heat. If any lumps remain, cool slightly and return it to the blender and puree. Taste the sauce and season with salt if needed.
3. In a large bowl, combine the olive oil, 2 tablespoons of the peri peri spice, the garlic, and the salt. Add the wings and toss to coat. Let the wings marinate in the refrigerator for at least 1 hour—but 1 day is best.
4. Preheat the oven to 350°F. Roast the wings in a baking dish for 45 minutes, turning
once while cooking. Let cool. Once the wings are cooled, pour the buttermilk over, tossing the wings so they are completely coated. Store in the refrigerator.
5. In a cast-iron pan, heat 2 inches of olive oil over medium-low heat to 325 to 350°F. Combine the flour and remaining 4 tablespoons peri peri spice in a bowl. Take one chicken wing at a time out of the buttermilk, allowing the excess buttermilk to drip off. Dredge each wing in the flour mixture and set aside on a plate until each wing is well coated in flour. Carefully place the wings into the hot oil, being careful not to overcrowd the pan. Once golden brown, turn each wing to cook the other side. Drain the wings on a plate lined with a paper towel and salt lightly.
6. To serve, whisk red wine vinegar with Peri Peri Sauce. Cover the wings with the sauce and toss lightly, or serve the sauce on the side for dipping.
From JACK'S WIFE FREDA: Cooking from New York's West Village by Maya and Dean Jankelowitz. Recipes by Julia Jaksic. Published by Blue Rider Press, an imprint of Penguin Publishing Group, a division of Penguin Random House LLC. Copyright © 2016 by NoamBennyLLC. Photo: Henry Hargreaves
Originally featured in goop Cookbook Club: Jack's Wife Freda