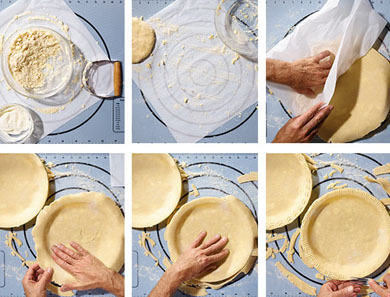 Perfect Gluten-Free Pie Crust
Triple-threat food stylist, recipe developer, and allergen-free cooking instructor Jeffrey Larsen shows us how to make the ultimate GF pie crust—with vegan variations. (Just replace the butter with an equal amount of Earth Balance Vegan Buttery Sticks, and replace the sour cream with 2 tablespoons of cold water.)
1. In a medium bowl or food processor, mix together the brown rice flour, the tapioca starch, potato starch, sweet rice flour, sugar, xanthan gum, and salt. Cut in the butter with a pastry blender or a fork until it forms pea-size pieces. Add the sour cream and rice vinegar and combine with your hands.
2. Turn the dough out onto the counter and knead gently. If it seems dry, add 1 teaspoon of cold water at a time and knead the dough until it's smooth.
3. Sprinkle a sheet of parchment paper with brown rice flour. Flatten the dough into a disk on the paper. Sprinkle it with a little more brown rice flour and roll it out until the dough is 11 to 12 inches in diameter.
4. Invert a 9-inch pie plate on top of the dough. Slip one hand under the parchment paper while holding the pie plate with the other hand. Carefully flip the whole thing over so the dough is on the pie plate.
5. Carefully peel off the paper while easing the dough into the plate. Gently press the dough into the pie plate, press any cracks together, and trim the edges of the dough so they just reach the edge of the pie plate. (You can use the trimmings to patch any breaks.)
6. To create a decorative edge, make a pattern with a spoon or fork; if the spoon sticks to the dough, dip it in GF flour before each use. Prick the crust with a fork on the bottom and partway up the sides. Use the piecrust or freeze it, wrapped well in plastic wrap, for future use.
Originally featured in Gluten Free Forever Magazine