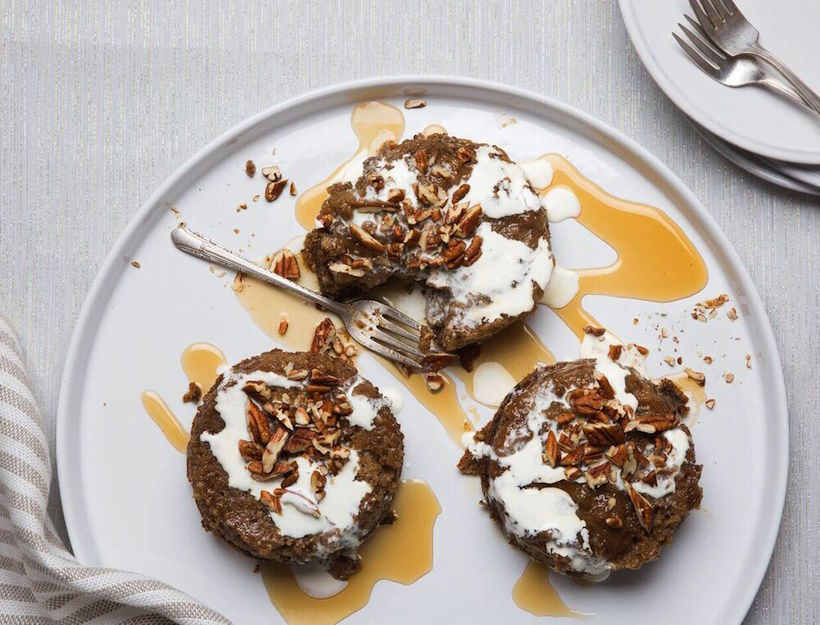 Pecan & Maple Syrup Steamed Puddings
"Far more current and far less laborious than the ubiquitous Christmas pudding, this heavenly, light sticky sponge is soaked with maple syrup, a natural alternative to the refined sugar original."
1. Heat the oven to 375°F. Generously grease eight ramekins, teacups, or dariole molds with the butter.
2. Place the pecans in a food processor and pulse until they are evenly broken down. You should end up with a mix of chunky and finer bits. Dust the insides of your vessels with the nuts, tipping out the excess into a large mixing bowl.
3. Empty the rest of the pecans into the large bowl and add the flour, sugar, suet (or butter and lard) and baking soda. Use your fingers to crumble the mixture, breaking it up until the butter and lard are roughly the size of peas. Add the eggs, maple syrup, vanilla seeds, and whole milk and mix well to combine.
4. Pour one tablespoon of maple syrup into the bottom of each mold, then pour some of the mixture on top (the ramekins should be about ¾ full).
5. Place the cups into a roasting tray and pour boiling water from the kettle until the water reaches half way up the molds. Carefully place this bain marie onto the middle shelf of your oven. Bake for approximately 25 minutes until a golden crust forms on top of these puddings and they spring back slowly when poked.
6. Rest them for five minutes and turn them out. Serve with warm maple syrup and a long pour of some homemade custard.
Originally featured in The Ultimate Holiday Dinner Party Menu (and How to Pull it Off)