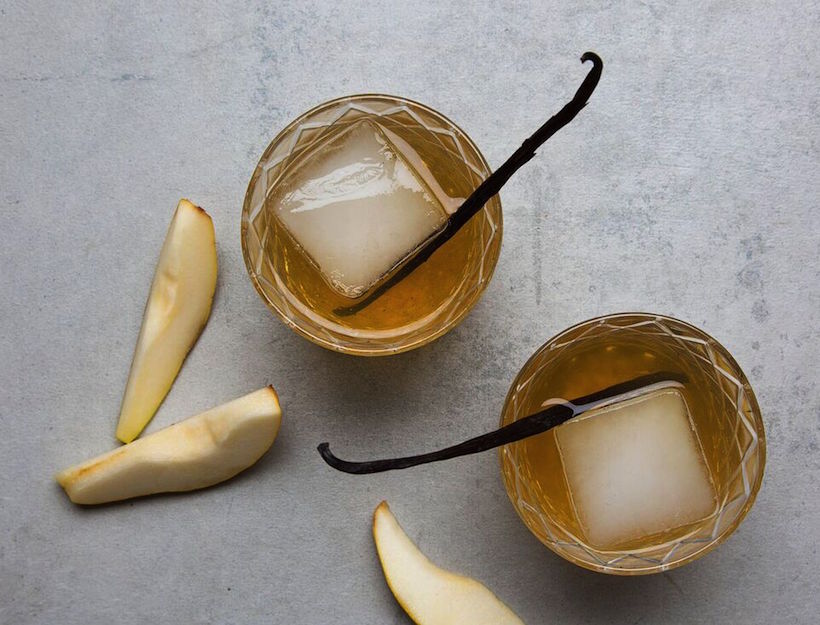 Pear and Vanilla Sour
Shrubs are fruit, vinegar, and sugar infusions and seem to be all the rage at cocktail bars these days. Turns out they're super easy to make, and you can use any fruit you'd like. Here we experimented with pear, vanilla bean, and whisky to make what just might be our new favorite cocktail.
for the vanilla pear shrub:
2 vanilla beans
1/3 cup granulated sugar
2 pears, cored and diced (about 2 1/3 cups)
1 cup apple cider vinegar
for the cocktail:
2 ounces rye whisky
2 ounces vanilla pear shrub
½ ounce meyer lemon juice
seltzer water
½ vanilla pod, to garnish
1 meyer lemon twist, to garnish (optional)
1. To make the pear shrub, cut vanilla beans along the center and scrape out the seeds. Place the seeds and the beans in a bowl with the sugar and use your fingers to mix them together.
2. Add the pears, using a fork to smash them a bit and release their juices. Let sit 10 minutes, then add the apple cider vinegar and stir to combine everything.
3. Cover and leave in the fridge for 24-48 hours before straining (reserving the vanilla pods for garnishes).
4. To make the cocktail, combine the whisky, pear shrub, and meyer lemon juice in a tumbler glass with ice. Add a splash of seltzer water and garnish with half a vanilla pod and a meyer lemon twist (optional).
Originally featured in The DIY Cocktail Bar