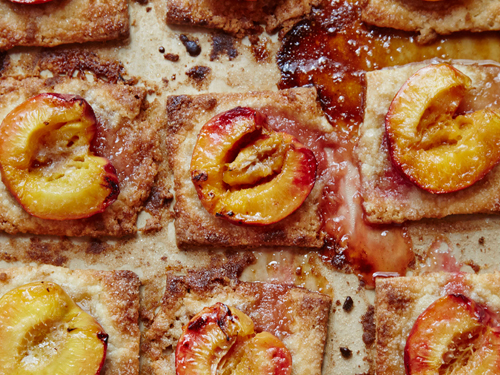 From chef Zoe Nathan of Huckleberry in LA, an indulgent brunch treat. We tried it out for goop's Cookbook Club.
1. Allow the flaky dough to soften at room temperature for 10 to 20 minutes, depending on the temperature of your house, before rolling. The dough should be cold but malleable.
2. On a lightly floured surface, roll the dough out into a 14-inch square, and about an even ⅛-inch thick. Trim the edges to make them even and slice 9 4-inch squares (that's 3 squares down and 3 across). Transfer them, evenly spaced, to 2 greased sheet pans. Press any scraps together and reroll. You should get at least 1 more square. If you're feeling especially efficient, you might get another 3.
3. In a bowl, toss the halved peaches, granulated sugar, brown sugar, melted butter, and salt until well coated.
4. Brush each square with egg wash and place a peach half, cut side up, on each square. Sprinkle any exposed dough with a little granulated sugar and freeze for 25 minutes.
5. Preheat your oven to 350°F. Bake from frozen until they're a deep golden brown, about 35 minutes. Don't be afraid of good color. Trust us: Deep golden brown is what you want! Transfer to a cooling rack to keep crisp.
Originally featured in The goop Cookbook Club: Huckleberry