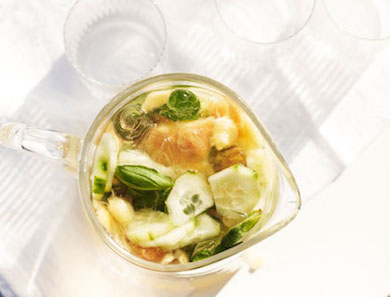 An American spin on England's Pimm's Cup cocktail. The key to success? Use ripe, fragrant peaches.
1. Using a muddler or wooden spoon, mash peaches with liqueur and lemon juice in a large pitcher.
2. Stir in vodka. Can be made 4 hours ahead. Cover and chill.
3. Cut 1/3 of cucumber lengthwise into 4 spears for garnish. Thinly slice remaining cucumber.
4. Stir Prosecco, soda water, mint, and sliced cucumber into pitcher.
5. Fill glasses with ice. Pour cooler into glasses; garnish with cucumber spear.
Originally published on Bon Appetit.