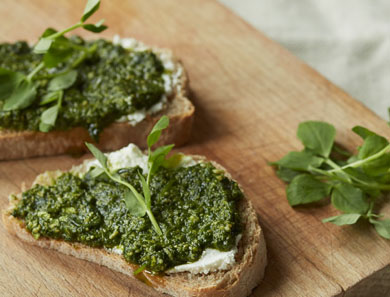 Pea Shoot Pesto with Lemon Ricotta on Toast
Before garden peas are fully formed, these wonderful leaves or shoots can be plucked from the plant in early spring. With a subtle pea flavor and a light and delicate texture (similar to watercress) they are great in salads, lightly sautéed with some olive oil/garlic, and especially made into a pesto and paired with creamy, lemony flavors as we do here.
1. Combine all the pesto ingredients except the olive oil in a food processor. Cover and pulse until combined. Slowly drizzle in the olive oil and pulse until smooth.
2. Meanwhile, drizzle the bread slices with olive oil and sprinkle with salt and pepper. Place on a baking sheet and under the broiler for about a minute or so on each side until lightly browned but not hard. Remove from oven and let cool.
3. Place ricotta in a mixing bowl. Grate the zest of ½ a lemon into the ricotta and mix to combine. Add salt and pepper to taste.
4. Smear lemon ricotta over toast. Add pesto on top. Garnish with a drizzle of olive oil, sea salt, a sprinkle of lemon and a pea shoot.
Originally featured in First Spring Harvest