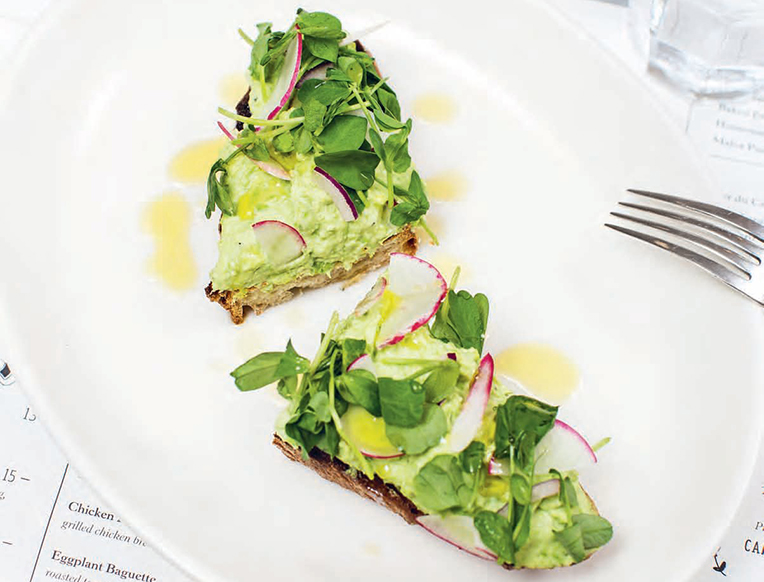 This dish is basically spring on a plate. Plus, you can make the pea mixture in advance, so it's perfect for a lazy Sunday brunch.
1. Peel the shallot and garlic and coarsely chop into a small dice. In a sauté pan over low heat, cook the shallot and garlic with 1 tablespoon olive oil until they are soft and translucent.
2. Add the peas to the pan and turn the heat to medium. Cook until there is no residual water left from the peas.
3. In a food processor, combine the peas and mint leaves and process until smooth, scraping down the sides of the container at least once. Add the ricotta and lemon zest to the pea mixture and process until combined.
4. Transfer the mixture to a bowl and season with salt. Refrigerate until cool.
5. In the meantime, thinly slice the radishes and toss them with the greens. Add lemon juice and olive oil to taste.
6. Toast the bread and heap each slice with an equal serving of the pea-ricotta spread. Garnish each with radish salad and drizzle with olive oil.
From JACK'S WIFE FREDA: Cooking from New York's West Village by Maya and Dean Jankelowitz. Recipes by Julia Jaksic. Published by Blue Rider Press, an imprint of Penguin Publishing Group, a division of Penguin Random House LLC. Copyright © 2016 by NoamBennyLLC. Photo: Henry Hargreaves
Originally featured in goop Cookbook Club: Jack's Wife Freda