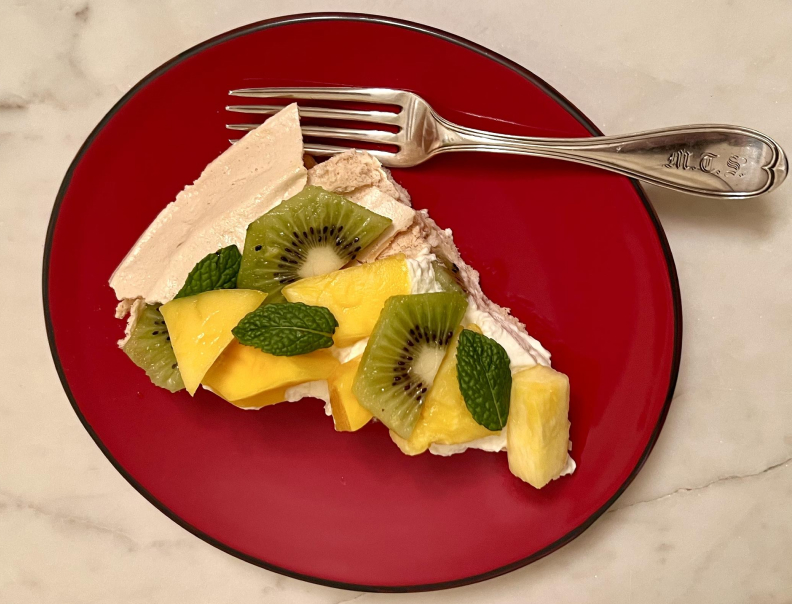 Pavlova
"Created for and named after the Russian ballerina Anna Pavlova, this gorgeous dessert is, indeed, a ballet of meringue, cream, and berries. It is ridiculously easy to make, particularly in light of its sumptuous, extravagant appearance. When prepared right, the meringue is marshmallowy on the inside and crisp on the outside, the cream is billowy, and the berries are bursting with juice. In winter, tropical fruits conjure sunny vacations. For a tropical pavlova, try a surprising touch of mango sorbet under the whipped cream and choose whatever fruits appeal—say, mango, pineapple, and kiwi."
FOR THE MERINGUE:
9 large egg whites, at room temperature
¼ teaspoon fine sea salt
1½ cups (300 grams) superfine sugar
2 teaspoons vanilla extract
1½ teaspoons white vinegar
1 tablespoon cornstarch, sifted
FOR THE CREAM AND BERRIES OR TROPICAL FRUITS:
2 cups cold heavy cream
⅓ cup (38 grams) confectioners' sugar
1 teaspoon vanilla extract
3 cups berries or other fresh fruit, such as mango, pineapple, and kiwi
1 tablespoon granulated sugar
1½ cups mango sorbet (optional)
1 small handful mint leaves
1. Preheat the oven to 275°F. Line a sheet pan with parchment paper. This generous recipe yields a 12-inch round meringue. If you want a neat circle, draw an outline on the paper, then flip the paper so that the ink is on the underside.
2. Using a stand mixer or handheld electric beaters, beat the egg whites with the salt at medium-high speed until you see soft peaks form. With the mixer still running, add the superfine sugar in a slow, steady stream and beat at high speed until you see shiny, firm peaks form. Add the vanilla, vinegar, and cornstarch and beat to incorporate.
3. Pour the meringue into the middle of the drawn circle. And, with a light touch so as not to deflate the egg whites, smooth it out to fill the outline of the circle. Using a rubber spatula, create a slight well in the center of the meringue, bringing the rim up a tad higher. Your end goal is a rim that's about ½ inch higher than the well of the meringue, but pavlovas are not about precision. Some people keep the meringue level, which is easier and very pretty. Bake for 90 minutes. Turn off the oven but leave the meringue inside for another 2 hours, or until it is no longer sticky to the touch. The exterior should be dry and crackly and the interior moist. It can stay in the oven all day if you want to make the meringue in the morning to have at dinner.
4. Just before serving, whip the cream in a stand mixer or using handheld electric beaters at medium speed. When it starts to thicken, add the confectioners' sugar and vanilla and whip until it holds its shape but is still soft, voluminous, and billowy. Toss the fruit in the sugar.
5. Fill the meringue with small spoonfuls of the mango sorbet, if using it, then with the whipped cream. Top the cream with the sweetened fruit. Sprinkle with the mint. Serve immediately. A sharp knife will help keep it neat, but neatness isn't the point.
Excerpted from Gateau by Aleksandra Crapanzano. Copyright © 2022. Available from Scribner, an imprint of Simon & Schuster.
Originally featured in 3 Easy, Dinner-Party-Worthy French Cakes