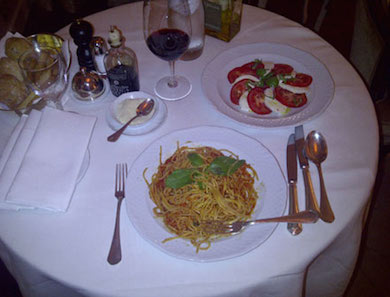 This recipe is from one of our favorite hotels in all of Italy—quite simply, no one does this basic pasta better.
1. Heat the oil in a casserole dish, add the garlic and brown slightly. When the garlic is golden remove it from the oil. Add the chopped onion and fresh butter and stir thoroughly. Cook until the onion is no longer shiny, then add the peeled tomatoes. Season with salt and pepper to taste and cook over mild heat for about thirty minutes.
2. When the tomatoes are cooked, beat with a whisk in order to refine the tomato sauce, adjust the taste and keep warm.
3. Cook the pasta "al dente" in a large pot of salted water, then drain it and add it to the tomato sauce. Add basil leaves torn by hand, a knob of fresh butter, and a generous sprinkling of grated Parmigiano Reggiano. Stir thoroughly and serve immediately, steaming hot.
Originally featured in Pasta Recipes from my Favorite Italian Hotels