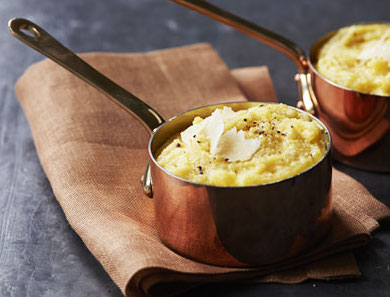 Parmesan Polenta
This creamy polenta pairs perfectly with our Turkey Osso Buco as it soaks up all the dishes delicious juices.
1 cup instant polenta
4 cups turkey or chicken stock
½ cup grated parmesan
sea salt
freshly ground pepper
1. Bring chicken stock to boil in a heavy saucepan. Reduce heat to medium and slowly whisk in polenta. Stirring constantly, cook for 2-3 minutes until polenta is smooth and creamy.
2. Remove from heat. Stir in parmesan, drizzle with olive oil and season with salt & pepper.
Originally featured in A Holiday Feast