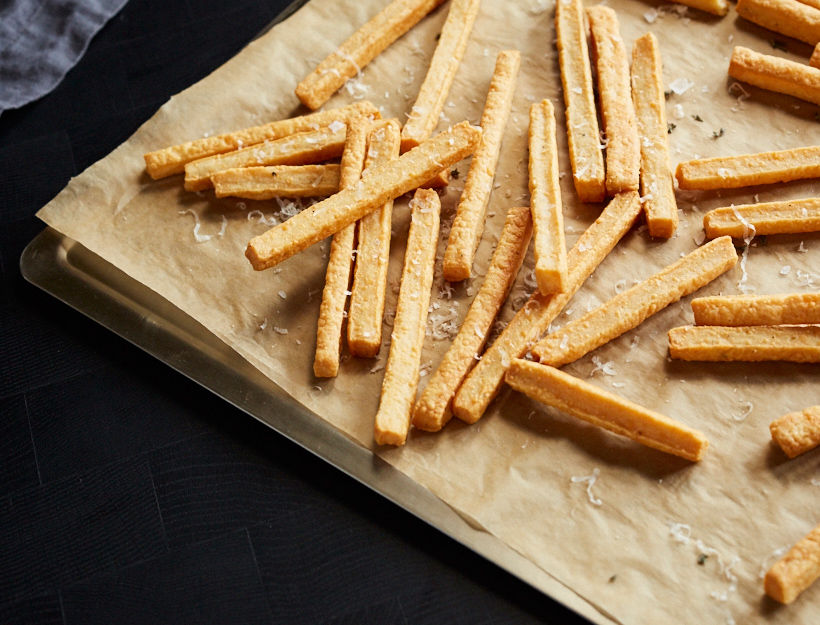 Parmesan and Thyme Cheese Straws
Homemade cheese straws may sound like more trouble than they're worth, but these come together quickly and easily and are SO much better than any store-bought version.
1. Preheat the oven to 350°F.
2. Combine the flour, salt, pepper, and thyme and set aside.
3. In a large bowl beat the butter and Parmesan together until you have pea-size crumbs. Add the dry ingredients in a few batches, mixing until well combined.
4. Add the water, 1 tablespoon at a time, and knead for a few minutes, until the mixture forms a ball (it will be on the dry side). Press the dough into a square and gently roll it out to ¼-inch to ½-inch thickness. Cover with plastic wrap and refrigerate for 15 minutes.
5. After the dough has rested in the fridge, it's ready to cut. Cut the dough in half, and then into ¼-inch to ½-inch sticks. Transfer them to a parchment-lined baking sheet, spreading them out evenly.
6. Bake for 12 to 15 minutes, or until golden and fragrant. Let cool completely before serving.
Originally featured in Feed the Peanut Gallery: What to Serve at Your Oscars Party