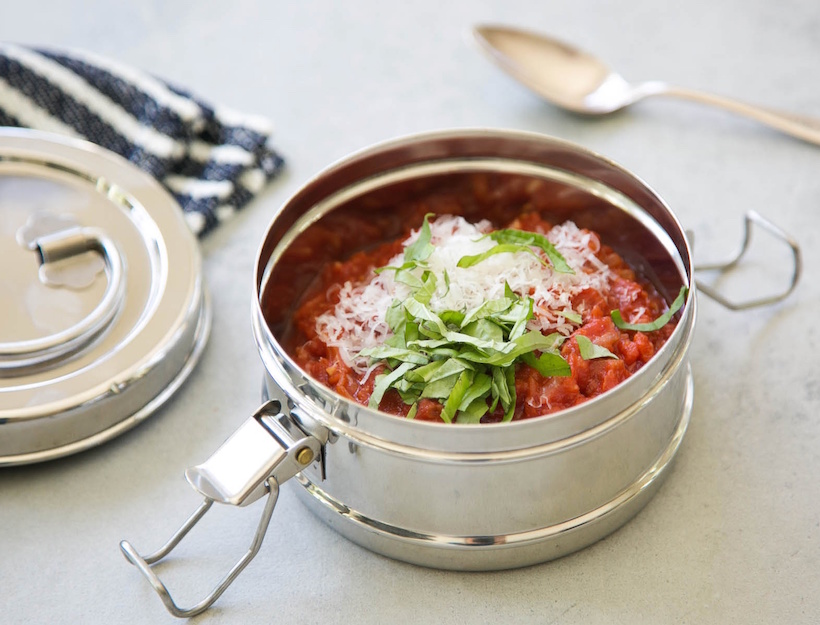 Mario clearly gets that every kid loves tomato soup. His Italian version, thickened with toasted croutons, does not disappoint. It's also delicious cold or at room temperature, which makes it perfect for a lunchbox.
1. Preheat the oven to 400 degrees.
2. Heat four tablespoons of olive oil over medium heat in a five to six quart thick-bottomed pot. Add the diced onions and cook slowly, until softened and beginning to color, about 10 to 12 minutes. Add minced garlic and cook one more minute, then add canned tomatoes and dried oregano. Bring the mixture to a low boil, then reduce heat to maintain a low simmer. Cook for 25 minutes.
3. While the soup is cooking, drizzle the bread cubes with remaining oil and toast in the preheated oven until golden brown.
4. Once the tomatoes have cooked for twenty-five minutes, add the lightly browned croutons to the soup, and cook for five more minutes. Turn off the heat, cover the pot, and let sit 10 to 15 minutes. Use an immersion blender to roughly purée the soup, then garnish with parmesan and chopped basil.
Originally featured in Lunchbox Ideas From Our Favorite Chef Dads