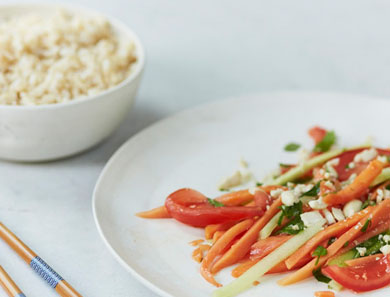 Inspired by Thai street dish "Som Tam," we use ripe papaya (easier to find stateside) instead of the raw green papaya found in the Thai version and skip the dried shrimp. This is ubiquitous on the city streets, usually served with a side of sticky rice.
1. To make the dressing, add the garlic and the chili (use less if you don't like it too spicy) to a mortar and pestle. Bash together to form a paste. Add to a mixing bowl with agave, fish sauce and lime. Whisk together until combined.
2. On a large plate, layer the papaya, carrots, cucumber, and tomato. Sprinkle cilantro and peanuts on top. Pour dressing over the top and give a gentle toss to combine (you want to be careful not to break the papaya).
Originally featured in Gooping Street Food