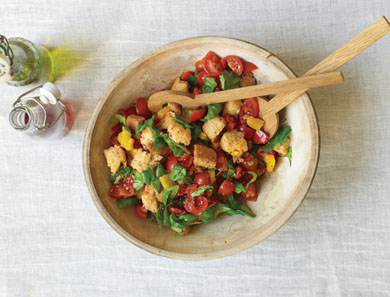 Panzanella with Roasted Peppers, Tomatoes & Basil
From My Father's Daughter: "Whenever I've let great bakery bread go stale by accident, I make this salad. The brightness of the tomato, roasted pepper and basil are really complemented by the texture of the bread."
1. Combine the bread, peppers, and tomatoes together in a large bowl.
2. Whisk the vinegar, olive oil, salt, pepper, and anchovies together in a small bowl and drizzle over the salad. Tear in the basil, toss everything together with your hands, and let sit for at least 15 minutes before serving.
3. Distribute the panzanella on plates, drizzling each serving with a little extra olive oil.
The recipe is excerpted from My Father's Daughter by Gwyneth Paltrow. Copyright © 2011 by Gwyneth Paltrow. Reprinted by permission of Grand Central Publishing. All rights reserved.
Originally featured in Summer Tomato Recipes