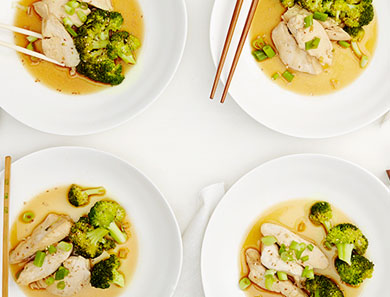 Pan-Steamed Chicken + Broccoli
A clean version of a Chinese take-out favorite.
1. Drizzle the sesame oil in a large non-stick frying pan and place over medium heat. Add the ginger and garlic and cook for about 30 seconds until fragrant. Add the chicken breasts in one layer to the pan. Let brown for about a minute on each side. Add the broccoli, tamari and chicken broth, reduce to a medium low heat and let simmer and steam for about 10-12 minutes until the broccoli is soft but still has some bite and the chicken is cooked all the way through.
2. Plate the chicken and broccoli, leaving the juices in the pan. Add the sesame seeds to the liquid and cook for another minute. Spoon the sauce over the chicken and broccoli and garnish with scallions and more sesame seeds as desired.
Originally featured in A Warming Winter Detox