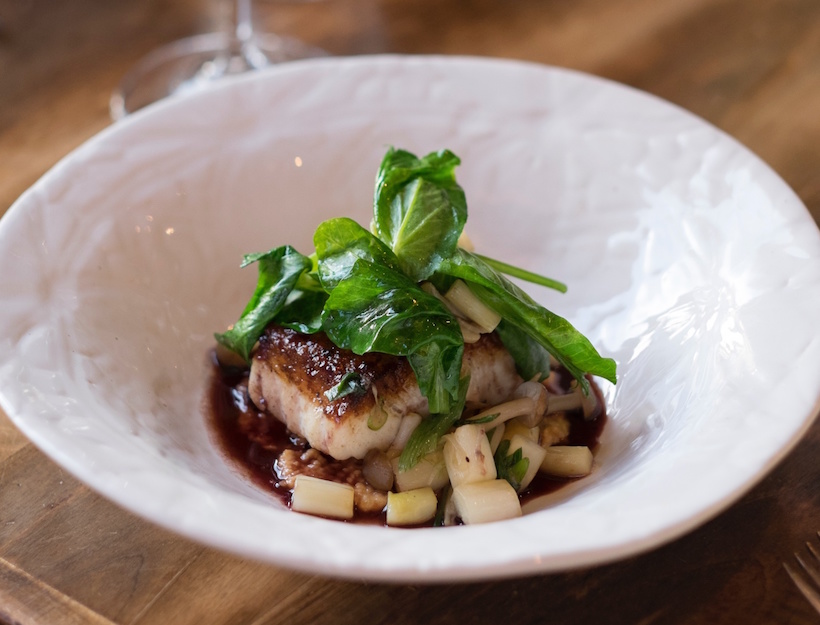 Pan Seared Halibut with Sautéed Spring Vegetables, Miso Marcona Almond Butter and Blueberry Nuoc Cham
There are a lot of components to this halibut dish, but each one is fairly quick to make. Plan ahead and make the blueberry preserve, blueberry nuoc cham, and miso marcona almond butter in advance.
for the blueberry preserve:
3 ounces of fresh blueberries
1/8 cup sugar
pinch of salt
1 teaspoon lemon juice
1 teaspoon water
for the blueberry nuoc cham:
1/4 cup lemon juice
1/4 cup fish sauce
1/4 cup dark brown sugar
1 clove garlic, microplaned
2 1⁄2 tablespoons malt vinegar
2 tablespoons Blueberry Preserve
for the miso marcona almond butter:
Yield: 1 1/2 cups
1 1/2 cups salted Marcona almonds
2 1/2 tablespoons white miso paste
1 1/2 tablespoons soy sauce
1 tablespoon honey
1 teaspoon sambal
1/2 tablespoons olive oil
1 tablespoon ice water
Coarse salt and freshly ground black pepper
to finish the dish:
4 5-ounce halibut filets
1 small bundle of white asparagus, woody end removed, peeled and sliced into inch long pieces
2 cups spring onions (white part and first few inches of green), sliced thin
8 ounces Brown Beech mushrooms, separated from base and woody end trimmed
1. First, make the blueberry preserves. Add all ingredients to a small pot. Cook over medium heat for 10 minutes, until all fruit is exploded and saucy. Cool and reserve until needed.
2. To make the blueberry nuoc cham, whisk all ingredients together.
3. To make the nut butter, combine the almonds, miso paste, soy sauce, honey, sambal, olive oil, and water in a blender or food processor and mix until a thick paste forms (slightly thicker than the consistency of natural peanut butter). Scrape down the sides once or twice while processing. Be careful not to let the food processor get too hot while blending. If it seems that bowl is getting hot and the butter isn't mixing well you can add another tablespoon of ice water to help it blend. Season to taste with salt and pepper.
4. To finish the dish, sauté vegetables individually in a non stick pan with a small amount of butter and season with salt. Toss all the vegetables together and set aside.
5. Wipe out the pan and heat over medium-high heat with a little oil in the bottom. Pan sear seasoned halibut filet for 5 minutes on either side, so that a nice golden brown crust forms. Don't over crowd the pan with fish so the heat remains constant.
6. Remove the cooked fish from the pan and set aside to rest. Add 2 tablespoons of butter. Allow butter to melt and brown and add blueberry nuoc cham. Whisk together and season with salt.
7. To plate the dish scoop a quarter of the miso Marcona almond butter onto the bottom of each rimmed plate. Place the seared halibut directly on top of the almond butter. Place a quarter of the sauted vegetables on top of each halibut filet.
Drizzle the blueberry Nuoc Cham over each plate and serve!
Originally featured in A Dinner Feast with Stephanie Izard