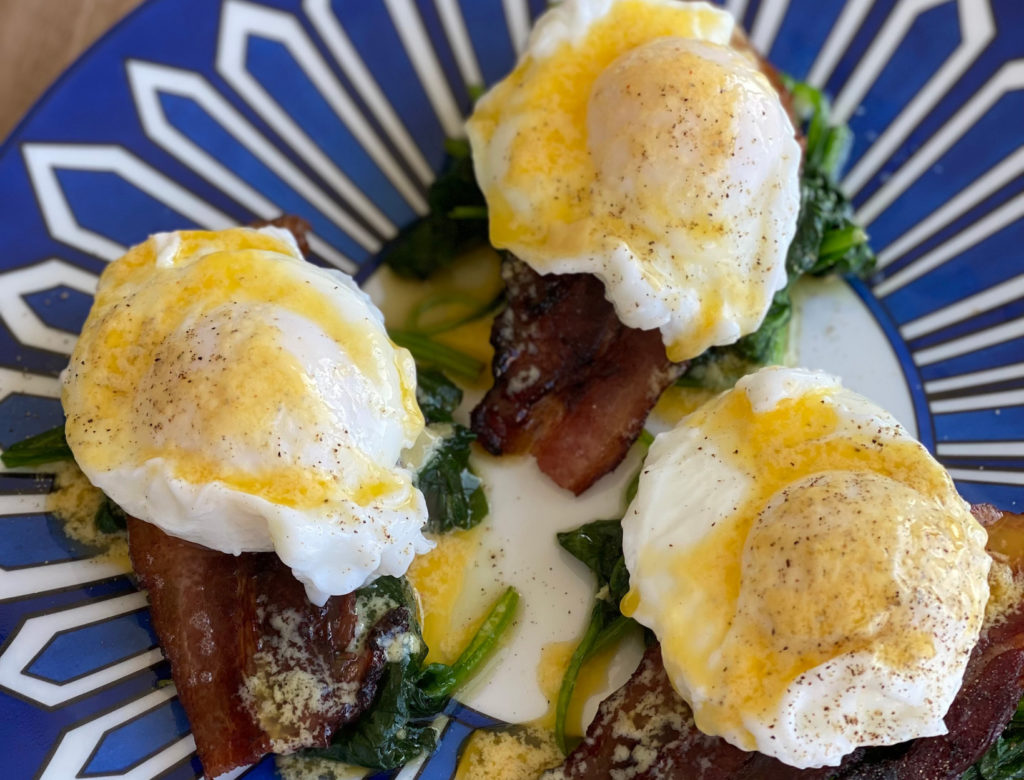 There are some really good paleo breads out there, but even if you don't love it, toasting it, rubbing it with raw garlic, and topping it with a poached egg and hollandaise will make it taste amazing. (Please don't judge my sometimes slightly broken hollandaise—it's still delicious.)
1. First cook the bacon. Start in a cold pan, add the bacon, and cook over medium-high heat until crispy. Set aside on a paper-towel-lined plate. Remove all but about a tablespoon of the fat and set aside for future use (it's incredible for potatoes).
2. Reduce the heat to medium-low, add the sliced garlic clove to that tablespoon of bacon fat, and let cook for a minute until fragrant. Then add the spinach and cook for a minute or two, just until wilted. Remove the pan from the heat and set aside.
3. Next, poach your eggs.
4. Make the hollandaise. Melt the ghee in a small saucepan until just bubbling, then transfer to a measuring cup with a pour spout. Add the egg yolk and lemon juice to the tall, narrow cup that comes with your immersion blender (or any narrow cup that just fits the head of the immersion blender—this will ensure proper emulsification). Blend until light yellow and fluffy. Then slowly stream in the warm ghee and keep blending until thick and creamy.
5. Toast the bread, then rub the sides with the whole clove of garlic.
6. To assemble the eggs Benedict: Lay the toast on the plate. Top each piece with some spinach, a slice of bacon, and a poached egg and drizzle generously with hollandaise. Top with flaky sea salt and freshly cracked pepper.
Originally featured in Is it Antifeminist to Cook for Your Boyfriend?