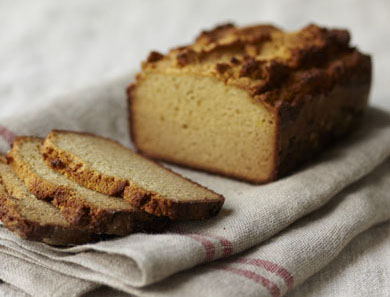 Made with honey instead of sugar and no white flour, this Paleo Bread is as healthy as it is delicious.
1. Place almond flour, coconut flour, flax, salt and baking soda in a food processor and pulse the ingredients together.
2. Add in eggs, oil, honey and vinegar and pulse.
3. Pour batter into a greased 7.5″ x 3.5″ non-stick loaf pan (or line with parchment paper.)
4. Bake at 350° F for about 40 minutes.
5. Cool and serve.
Recipe from Elana's Pantry.
Originally featured in A Better Breakfast