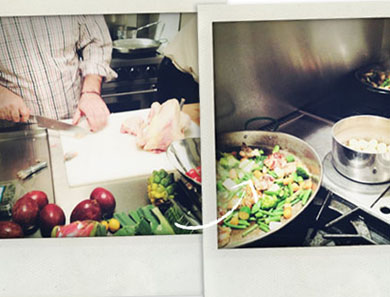 Paella de Pollo y Verduras (Chicken & Vegetable Paella)
To serve as José Andrés, plate on top of a sundried tomato pureé with a side of friseé tossed with sherry vinegar and olive oil.
¼ cup Spanish olive oil
3 cups diced seasonal vegetables such as green beans, zucchini, baby squash, cauliflower
1 cup seasonal mushrooms
2 pounds organic chicken legs and thighs, cut up
1 tablespoon chopped fresh garlic
1 cup grated fresh tomato
a pinch of saffron
4 cups mineral water
½ cup dry white wine
1 teaspoon pimenton (Spanish smoked paprika)
2 cups Spanish bomba or calasparra rice
1. Heat the olive oil in a 15-inch paella pan over medium-high heat. Once hot, sear the vegetables until they get a nice brown color. Remove vegetables from the pan and reserve. Add the chicken in small batches to the pan and sear until skin is golden and crisp. Remove the chicken and reserve. Add the chopped garlic and cook for 2 minutes. Stir in the grated tomato and cook for 1 minute making sure to scrape up all the browned bits from the chicken. Pour in the wine and let it reduce by half, about 2 minutes.
2. Return the vegetables and chicken to the pan and pour in the mineral water. Allow the mixture to boil for 2 minutes to flavor the water. Then stir in the rice. Season to taste with salt and boil for 10 minutes. Do not stir the rice again, as this can cause the rice to cook unevenly.
3. Crumble the saffron across the top of the paella and sprinkle the pimenton evenly. Do not stir the rice. Cook for another 5 minutes. Remove the paella from the heat, cover with a clean kitchen towel and let the paella rest for 5 minutes before serving.
Contributed by José Andrés, and served at his restaurant Jaleo in Washington, DC.
Originally featured in Dinner with Jose Andres