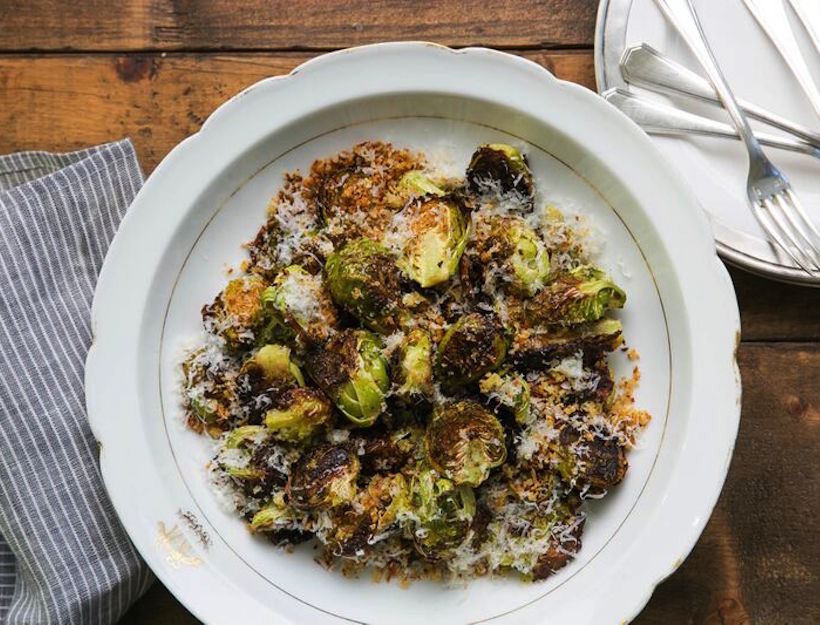 Oven-Fried Brussels Sprouts
The trick to good oven-fried brussels sprouts is getting it nice and crispy, and pre-heating the baking sheet in a hot oven allows you to get that much-needed caramelization. Finished with some garlicky breadcrumbs, parmesan, and fresh lemon juice, this simple oven-fried brussels sprouts recipe may just be your new go-to.
1. Place a rimmed baking sheet in the oven and preheat to 450°F.
2. Use a paring knife to cut off the bottom off each sprout and remove any wilted or dirty outer leaves. Rinse and dry well and cut any large sprouts into quarters, any medium ones in half, and leave any tiny ones whole. Toss sprouts with 4 tablespoons of the olive oil and season generously with salt and pepper.
3. Remove the baking sheet from the oven (be careful—it will be hot!) and dump the sprouts onto the preheated baking sheet; they should immediately start to sizzle. Return the baking sheet to the oven and let cook, undisturbed for 20-30 minutes, or until wonderfully crispy and tender when poked with a paring knife.
4. While the sprouts roast, toss panko breadcrumbs in a small bowl with minced garlic, the remaining tablespoon olive oil, lemon zest, and a generous pinch of salt. Heat a small sauté pan over medium-low heat, and cook the breadcrumb mixture until lightly brown and fragrant, stirring occasionally, about 3 minutes.
5. When the sprouts are ready, remove to a platter and top with breadcrumbs. Grate over parmesan cheese and finish with a generous squeeze of fresh lemon juice.
Originally featured in Easy Veggie Thanksgiving Sides