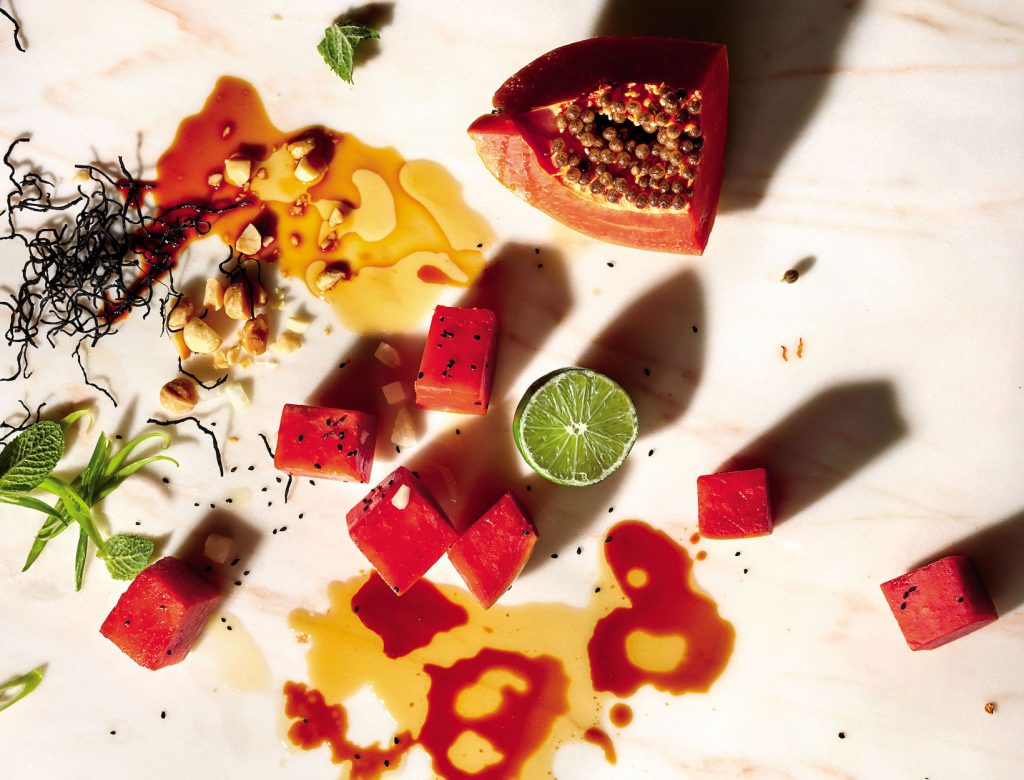 Our Way Poke
"Poke is a salty-sweet balancing act that hits all the right notes and delivers us straight to summer. The traditional version is made with raw fish. Ours swaps in marinated papaya while cauliflower rice adds crunch. This is a perfect colorful, clean summer lunch. With it, we say mahalo to the plants." —Cindy DiPrima Morisse, CAP Beauty cofounder
1 scallion, thinly sliced
½ sweet onion, finely diced
1½ tablespoons tamari or coconut aminos
1 tablespoon fresh lemon juice
1 teaspoon honey or coconut sugar
1 teaspoon grated ginger
2 teaspoons toasted sesame oil
1 tablespoon black sesame seeds, toasted
2 cups ripe papaya chunks (½ inch)
¼ cup hijiki
cauliflower coconut rice
garnishes (optional):
sliced avocado
shiso
cilantro
mint
scallions, sliced on the bias
toasted macadamia nuts
red pepper flakes
lime wedges
for the cauliflower coconut rice:
1 head cauliflower
1 tablespoon coconut oil
2 tablespoons tamari or coconut aminos (optional)
½ tablespoon sesame oil (optional)
1. Whisk together the scallion, onion, tamari or amino, lemon juice, honey or sugar, ginger, oil, and sesame seeds in a large mixing bowl. Add the papaya and mix well.
2. Transfer to the refrigerator and let it sit in marinade overnight.
3. Soak the hijiki in warm water to rehydrate for 5 to 10 minutes. Drain and squeeze out any excess moisture.
4. Add hijiki to the bowl of papaya and mix well.
5. Mound ½ to ¾ cup of cauliflower rice on a plate, top with ½ to ¾ cup of the papaya, and add any garnishes you desire.
For the cauliflower coconut rice:
1. Grate the cauliflower on a box grater or add to a food processor and process until the cauliflower resembles rice.
2. Heat the coconut oil in a large pot over medium heat and add the cauliflower. Cover and let steam, stirring occasionally, for 5 to 6 minutes, or until soft.
3. Remove from heat and add the tamari or aminos (if using) and sesame oil (if using).
Recipe excerpted from High Vibrational Beauty. Copyright @ 2018 by Kerrilynn Pamer and Cindy DiPrima Morisse. Published by Rodale Books, an imprint of Crown Publishing Group, a division of Penguin Random House LLC.