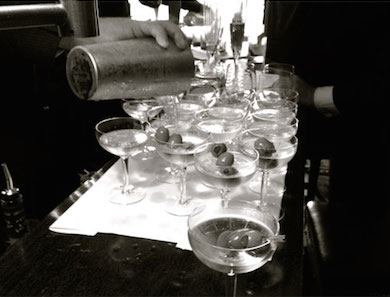 Olly's Insane Dirty Vodka Martini
Our friend Oliver teaches us how to whip up an insanely good dirty martini.
2 ½ shots of ice-cold Grey Goose vodka (I always use the ratio of 5:1 of vodka:vermouth when making any martini gin or vodka)
½ shot dry vermouth (to taste, i.e. dry or wet)
4 teaspoons of olive brine (though I always ask how dirty they like it 😉
3 large green olives
equipment
martini glass, preferably straight from the freezer. If not, fill the glass with ice and then with water wait 2-3 minutes until cold
atomizer for the vermouth – I coat the inside of the glass before I pour the martini in, as I think it makes the taste a little smoother. This step is not completely necessary in a dirty martini but in a normal one, I highly recommend you do this.
cocktail shaker
Hawthorne strainer
fine strainer
1. Fill the shaker with ice nearly to the top.
2. Add all the ingredients. I prefer to stir my martinis for about 20-30 seconds but you can shake it (max 10 seconds), which is thought to blend the vodka and vermouth better but traditionally the shaking makes it a Bradford. Also, shaking adds air bubbles, hence the cloudy appearance, and dilutes the mix which freshens the taste.
3. Using the atomizer, coat the inside of the martini glass with vermouth.
4. Through the Hawthorne and fine strainer, pour the dirty Vodka martini into a frozen martini glass.
5. Add olives and serve immediately.
Originally featured in The Lobster Roll