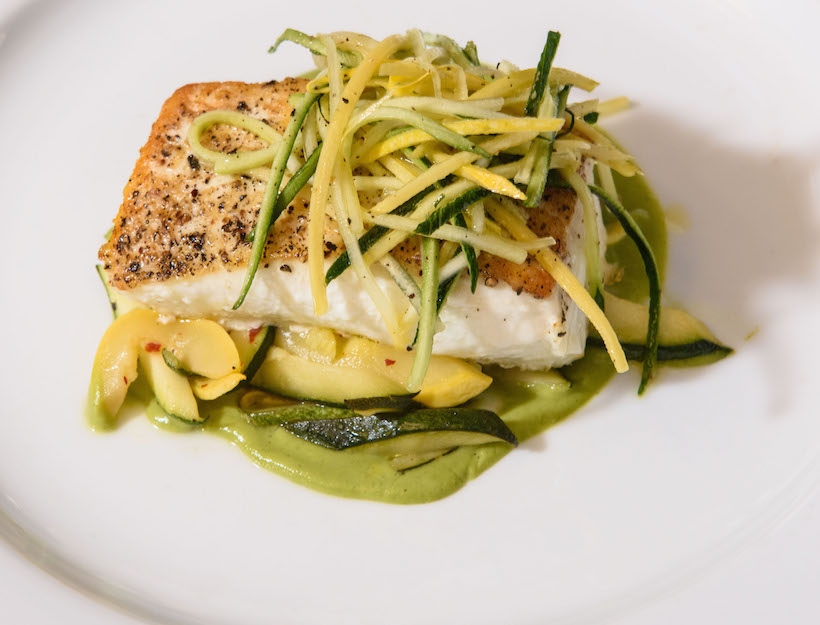 Olive Oil-Poached Halibut with Squash Ragu
This dish is a celebration of summer squash. We build a ragu using the flesh of the vegetable, sautée slices, and garnish with a julienne. It is the season reincarnate.
1. Preheat oven to 250F.
2. Cut two zucchini and two yellow squash in half lengthwise. Lay the squash flesh side down and cut to form half moons about 1/4-inch thick.
3. In a medium sauté pan over medium heat, add two tablespoons of olive oil. Add the onion and one clove of garlic, and cook until they start to dance, about three minutes. Quickly add the squash and cook for one or two minutes more. Season with salt and pepper and remove from heat. (This is a part-cook, so the squash should not be softened.) Allow to cool on a rack.
4. Remove the skin of the remaining two squash, cutting about 1/4-inch into the flesh. Reserve the core. Then cut the skins into long strips, the thinness of a julienne.
5. Roughly chop the core of the squash. In a large saucepan over medium heat, add two tablespoons olive oil, the remaining clove of garlic, and the squash core then season with salt and pepper. Cook for ten minutes or until the squash is soft. Then, using a hand blender, purée the mixture and set it aside.
6. To cook the fish, fill a baking dish with two inches of table oil. Add the bay leaf and peppercorns, then place the baking dish in the oven to bring the oil to temperature, about twenty minutes.
7. Preheat a non-stick pan over medium heat and season the halibut with salt and black pepper. Sear the belly side of the fish and carefully place on a baking sheet. After the fillets have been seared, gently place the fish in the cooking oil. Cook for seven to ten minutes or until the fish is white and firm.
8. While the fish is cooking, combine the half-moons of squash and the squash purée in a large pan over medium heat. Gently toss, being careful not to break the half-moons. When the mixture is warm, divide among four plates.
9. Remove the seeds from the pickled peppers and dice. In a mixing bowl, combine chili pepper with the zucchini strips, olive oil, salt, and pepper and a squeeze of lemon juice.
10. When the fish is cooked, place on a towel to remove any residual oil. Immediately transfer the fish to the plate. Garnish with raw squash salad, drizzle with finishing oil, and enjoy.
Originally featured in The Kickoff: GP and Mario Host a Dinner