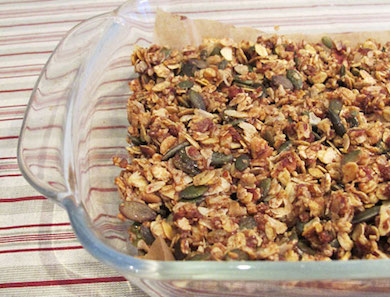 Oat, Pecan & Manuka Honey Breakfast Bars
Here's a honey-packed snack bar recipe from Sarah Orecchia of Unbeelievable Health.
1 cup porridge oats
1 cup pecan halves
10 dates chopped finely
½ cup pumpkin seeds
2 teaspoons cinnamon
1 teaspoon sea salt
1 tablespoon maple syrup
2 tablespoons manuka honey (or regular honey)
1 tablespoon light olive oil
2 tablespoons melted butter
Pre-heat oven to 350°F. Blend ingredients together in a bowl with a fork and mash until well mixed. Spread in the bottom of a non-stick or foil lined small baking tray (approx 6 x 8 inches or smaller). Bars should be about 1 1⁄2 cm thick. Bake for about 30 minutes. Let cool and slice.
Originally featured in The Importance of Honey & Bee Pollen