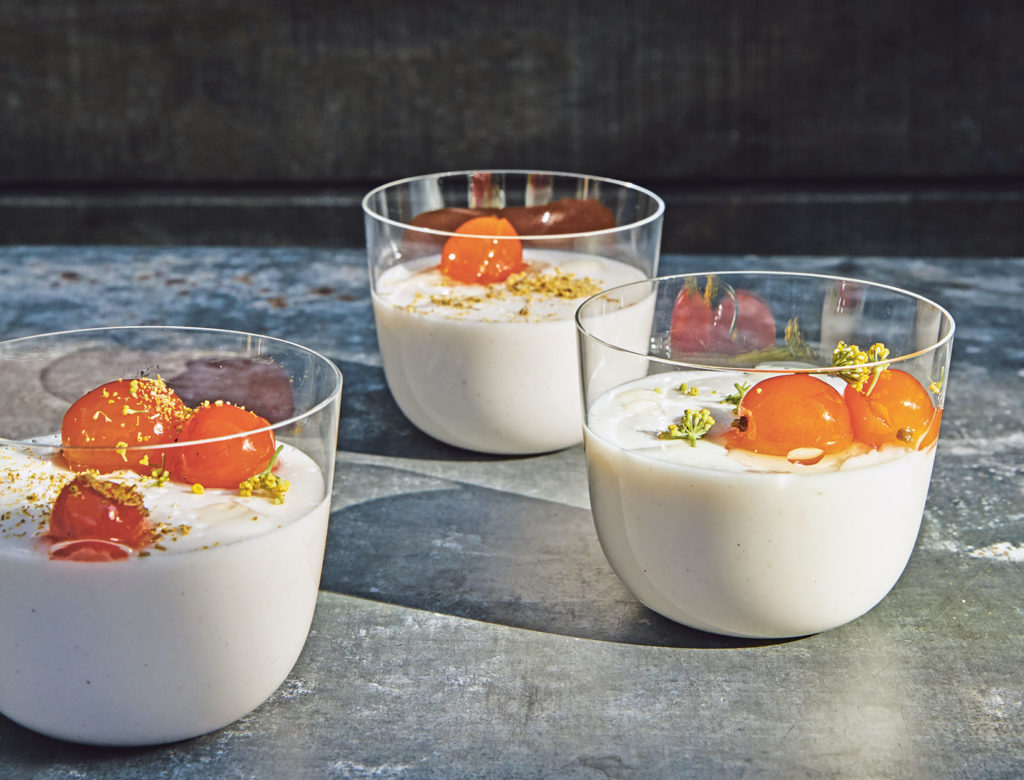 Nut Milk Panna Cotta with Candied Kumquats
"The combination of the homemade nut milk and toasted fennel seeds lends a delicate floral flavor, and the sweet tart of the candied citrus complements it so perfectly." —Vivian Lui
1. In a small bowl, sprinkle the gelatine over 2 tablespoons cold water and leave for at least 5 minutes to soften.
2. Toast the fennel seed in a small saucepan over medium heat for 1 minute until fragrant. Add the nut milk, sugar, and salt and simmer, stirring until the sugar is dissolved, about 2 to 3 minutes. Turn the heat off and leave for 10 minutes to infuse. Pour through a fine-mesh sieve into a large measuring cup or bowl.
3. Pour 120 milliters (4 fluid ounces) of the nut milk into the gelatine and whisk until smooth. Return to the remaining mixture and whisk to combine. Chill in the fridge for about 2 hours, whisking every 15 minutes, until the mixture has thickened to the consistency of double cream. Divide among 6 ramekins or glasses and chill for at least 4 hours, or overnight.
4. While they chill, make the candied kumquats. Place the kumquats in a saucepan and add the sugar, 475 milliliters (16 fluid ounces) water, cardamom, and the salt. Bring to the boil, stirring occasionally to dissolve the sugar. Reduce the heat and simmer for 1 hour, or until the kumquats are translucent. Remove from the heat and leave the kumquats to cool completely in the syrup. Transfer the kumquats and the syrup to clean jars and store in the fridge for up to 3 months.
5. Serve topped with Candied Kumquats and a sprinkle of fennel pollen and/or fennel flowers.
Recipe extracted from Eat California by Vivian Lui published by Smith Street Books. Photography © Con Poulos. Food stylist © Vivian Lui.